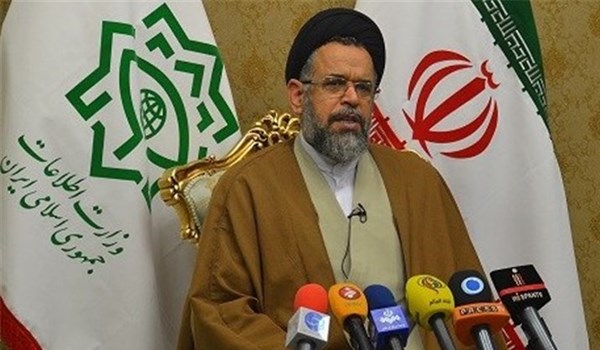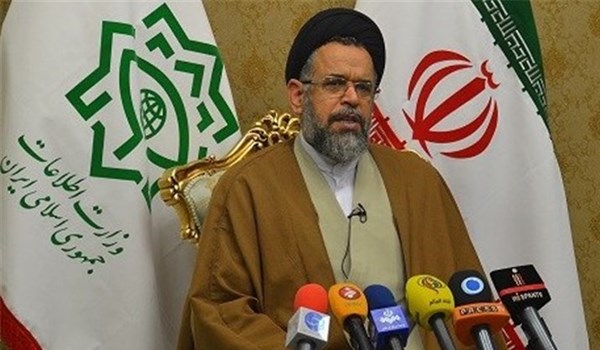 Iranian Intelligence Minister Seyed Mahmoud Alavi revealed that the US, Israel and certain regional states render support to the terrorist groups to act against Iran.
Speaking to reporters on the sidelines of the second edition of an international gathering of parliament speakers from Afghanistan, Iran, Pakistan, Turkey, China and Russia on fight against terrorism and expansion of inter-regional ties in Tehran on Saturday, Alavi condemned the Thursday terrorist attack in Chabahar city in Southeastern Iran which killed at least 2 people.
"Eventually, the regional security services are present and unfortunately, the Zionist regime and the US support these terrorist streams by their policies and strategies," he said.
Alavi blasted the US, Israel and certain regional states for making an instrumental use of terrorism to achieve their goals, and said, "In their view, the terrorism which serves their goals is not condemned."
He underlined the necessity for the regional states to increase their intelligence superiority to prevent formation of terrorism in their countries, adding that the terrorists use sovereignty vacuums to be deployed in the region.
The Thursday terrorist attack in Chabahar in Sistan and Balouchestan province killed at least 2 and wounded tens of others.
Ansar al-Forqan terrorist group has reportedly claimed responsibility for the suicide blast near a police station.
Head of the Islamic Revolution Guards Corps Public Relations Department and Spokesman General Ramezan Sharif warned supporters of the terrorist group responsible for the Thursday attack in Chabahar city of the IRGC's crushing response.
"Most terrorist grouplets are linked to foreign security services of countries like Saudi Arabia and they always attempt to foment insecurity at our bordering areas," General Sharif said on Thursday.
In June 2017, the IRGC Ground Force killed the ringleader of Ansar al-Forqan terrorist group, Jalil Qanbar Zehi, in clashes in the heights of Qasr-e Qand region, Southeastern Iran.
IRGC's public relations office announced in a statement at the time that the IRGC Ground Force destroyed a Takfiri terrorist team in Qasr-e Qand in the Southeastern province of Sistan and Balouchestan.
Several terrorists were killed and wounded in clashes with the IRGC forces in Qasr-e Qand region, including the ringleader of Ansar al-Forqan, it added.
The statement said that after being tipped off about the presence of a Takfiri terrorist group in Qasr-e Qand region, several units of IRGC ground troops were dispatched to the scene and attacked the terrorists.