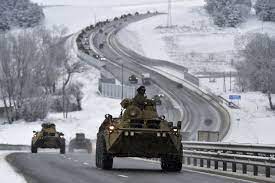 The Iranian foreign ministry voiced concern about the war in Ukraine, and called on both Moscow and Kiev to declare ceasefire and resolve the crisis through dialogue.
Foreign Ministry Spokesman Saeed Khatibzadeh expressed regret over the beginning of military operation and the escalation of conflict in Ukraine.
"The Islamic Republic of Iran is pursuing the developments in Ukraine with deep concern. Unfortunately, the continuation of NATO provocation actions, in which the US plays a central role, has led to a situation in which the Eurasian region is on the verge of an all-out crisis," he said.
Khatibzadeh added that Iran invites the conflicting sides to announce a ceasefire and hold immediate negotiations to resolve the crisis through political channels.
The Islamic Republic once again reiterates the importance of observing international law and humanitarian rights in military conflicts, he said.
Pointing to the situation of Iranian nationals living in Ukraine, Khatibzadeh said the most important mission of the Foreign Ministry at the current juncture is to "fully and urgently" address the issue.
The mission, he added, is currently underway based on previously designed plans using all the capacities.
Khatibzadeh noted that Iran's Embassy in Ukraine is fully active and serves the Iranian university students and nationals in accordance with the instructions given to it in advance.
On Thursday, Iranian Foreign Minister Hossein Amir Abdollahian blamed NATO's provocative acts for the current crisis in Ukraine, and meantime, said that war is not a solution.
"The Ukraine crisis has roots in NATO provocations," Amir Abdollahian wrote on his twitter page.
He, meantime, underlined that Iran does not see "resorting to war as a solution".
Amir Abdollahian called for a ceasefire and focusing on political and diplomatic solutions.
Russian President Vladimir Putin's "special military operation" in Eastern Ukraine has been swiftly condemned by several nations.
The authorisation by Putin was made at the same time as the United Nations Security Council met late on Wednesday for its second emergency meeting this week to urge de-escalation and return to diplomatic talks.
Russian media reported quoting Putin he had given approval to the operation in the Donbas region of Ukraine, where Moscow earlier recognised rebel-held territories in Luhansk and Donetsk and announced they had asked for its "help".
The Iranian foreign ministry in a statement on Tuesday had blamed the NATO for increased tensions in Ukraine crisis, and asked all relevant parties to show restraint.