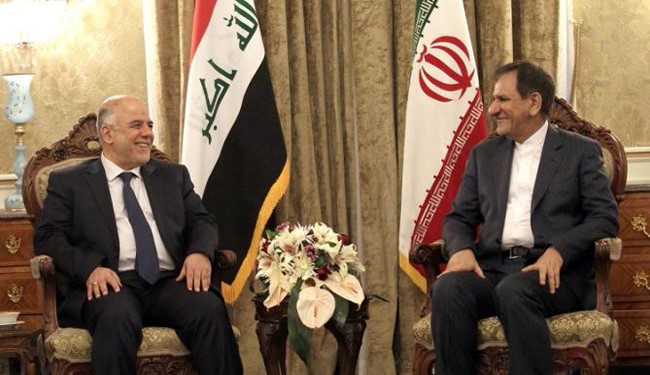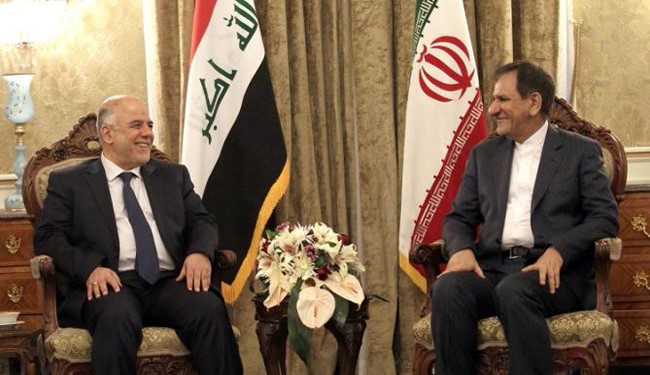 Iranian Vice-President Eshaq Jahangiri and Iraqi Prime Minister Haidar Al-Abadi in a meeting in Tehran on Wednesday underlined the two countries' resolve for mutual cooperation in fighting Takfiri terrorist groups.
"The Islamic Republic of Iran has always been beside the Iraqi nation and government and it will support peace, stability and progress of … Iraq by all means," Jahangiri said.
He pointed to the presence of the ISIL terrorist group in Iraq and Syria, and said, "We should confront the terrorist and violent moves made by the terrorist groups in these two countries through mutual cooperation and by adopting a united stance."
Jahangiri pointed to the status quo of the two countries' relations, and said, "In view of its historical and cultural commonalities with Iraq, the Islamic Republic of Iran is looking for the expansion of all-out relations with that country."
The Iranian vice-president reiterated that Tehran and Baghdad are determined to remove the obstacles to the further broadening of the bilateral relations between the two countries.
The Iraqi prime minister, for his part, pointed to his ongoing visit to Tehran as the second one in less than one year since he took office, and said, "My main goal in this visit is broadening the all-out ties between Baghdad and Tehran."
Al-Abadi said that Iran and Iraq should form a united front for fighting terrorism.
Al-Abadi arrived in Tehran earlier today and was warmly welcomed by Iranian Minister of Industry, Mines and Trade Mohammad Reza Nematzadeh at Mehrabad Airport.
While in Iran, the Iraqi prime minister is set to hold talks with several high-ranking Iranian officials and discuss regional and international developments as well as the ways to tackle the problem of terrorism.