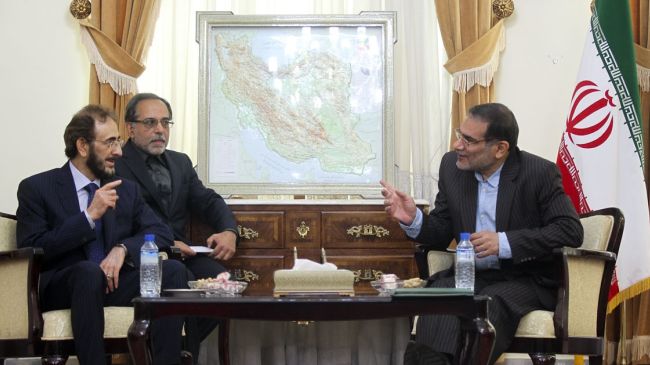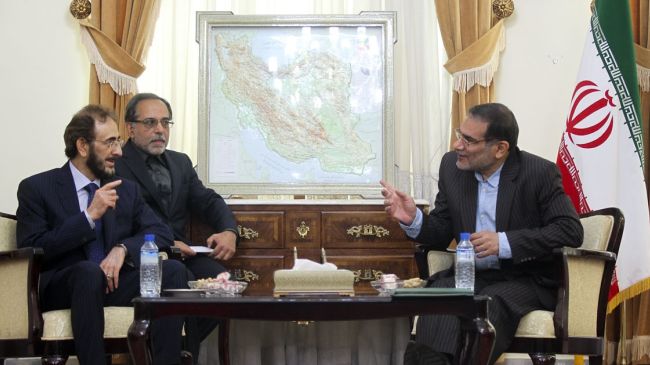 Secretary of Iran's Supreme National Security Council (SNSC) Ali Shamkhani says the Islamic Republic and neighboring Iraq can help resolve the problems plaguing the Middle East.
"The Islamic Republic of Iran and Iraq are today on the same front and can take steps to resolve regional and international problems," said Rear Admiral Shamkhani during a meeting with visiting Iraqi Defense Minister Saadoun al-Dulaimi in Tehran on Wednesday.
The Iranian official further underlined the necessity of improving public services in Iraq and strengthening the country's economic infrastructure.
"The Iranian government and nation are prepared to expand cooperation with Iraq at a strategic level in all areas."
Shamkhani also condemned the terrorist acts committed against the citizens and pilgrims in Iraq, expressing gratitude to Baghdad for pursuing the expulsion of terrorist Mujahedin-e Khalq Organization (MKO) from the Arab country.
Dulaimi, for his part, highlighted the common culture and civilization of the two nations, calling on Iran to increase the transfer of its experience in reconstruction and security affairs to the country.
He further stated, "The states that wage war in Iraq and other countries, will not remain safe from the flames of this fire."
The Iraqi Defense Minister arrived in Tehran on September 22 at the head of a high-ranking delegation to hold talks with senior Iranian officials on bilateral defense cooperation and leading regional and international issues.
Violence has spiked across Iraq in recent months, reaching its highest level since 2008. According to the United Nations, more than 5,000 people have been killed in acts of violence in the country so far this year.