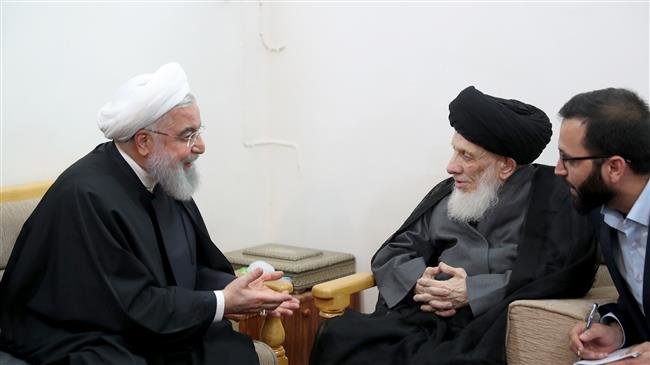 Iranian President Hassan Rouhani says Iran and Iraq can further cooperate and play a more significant role in solving regional and international issues.   
"Today, conditions are more suitable than ever for interaction between Iran and Iraq to play a more active role in [solving] regional and international issues," Rouhani said in a meeting with Grand Ayatollah Muhammad Saeed al-Hakim in Najaf on Wednesday.
Lauding the good and ever-growing ties between Iran and Iraq in different sectors, Rouhani said the officials of the two countries were determined to promote bilateral relations.
Ayatollah Hakim, for his part, said Iranian and Iraqi officials should work to promote bilateral ties based on the interests of the two countries.
The senior cleric pointed to plots by enemies to drive a wedge between the Muslim nations and governments of the region and called for unity and solidarity in the face of such schemes.
Rouhani also sat down with Grand Ayatollah Bashir al-Najafi, during which he described his talks with Iraqi officials as "very good" and said Tehran was keen to increase ties with Baghdad in all sectors.
He said that he held talks with Iraqi officials on matters of mutual interest and the two sides reached agreements on different issues, including visa facilitation for the two countries' nationals.  They also signed memoranda of understanding to boost cooperation in the fields of trade, healthcare, transportation, and the construction of industrial towns along the border between the two countries.
Ayatollah Najafi, for his part, praised Iran and said the Islamic Republic was a source of pride for the all Muslims, especially Shias.
Rouhani also held talks with Grand Ayatollah Muhammad Is'haq al-Fayadh, during which the Iranian president briefed the senior cleric on his talks with Iraqi officials.
Heading a high-ranking delegation, Rouhani began his official Iraq visit on Monday, which featured several meetings and the signing of memorandums of understanding for the expansion of bilateral ties in various fields.
In a joint statement, the two neighboring states hailed Rouhani's Iraq visit as a "turning point" in efforts to strengthen "strategic" cooperation based on non-interference in each other's internal affairs.