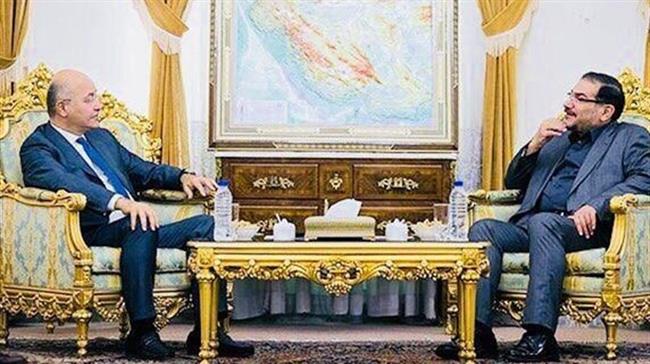 Iran and Iraq have underlined the need to expand their bilateral relations and cooperation in fighting terrorism and extremism.
Secretary of Iran's Supreme National Security Council (SNSC) Ali Shamkhani is currently visiting Baghdad for a two-day trip at the head of a high-ranking politico-security delegation.
He met Iraqi President Barham Salih in Baghdad late Sunday and the two sides underlined the need to support efforts to safeguard Iraq's sovereignty.
"Iraq is an independent country with a powerful authority," Salih said, according to Tasnim news agency.
The Iraqi president also said, "In the uphill battle against terrorism, Iran has invariably proven to be a companion for the Iraqi government and nation."
"We are grateful to the Iranian government and people," he added.
The Islamic Republic has been lending military advisory assistance to Baghdad's efforts to counter terrorism. The support was crucial in helping the Arab country defeat the Takfiri terrorist group of Daesh in late 2017.