Syria
Iran, Iraq optimistic on Syria CWs solution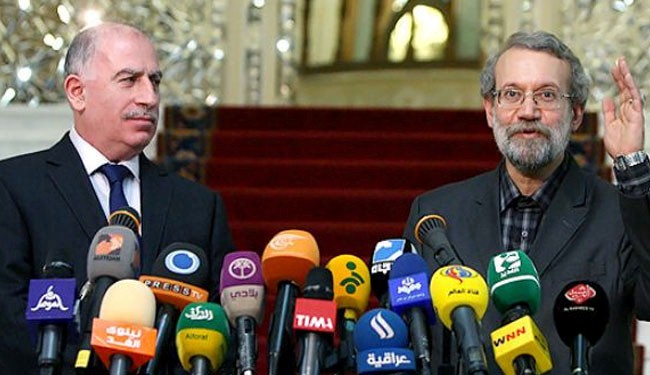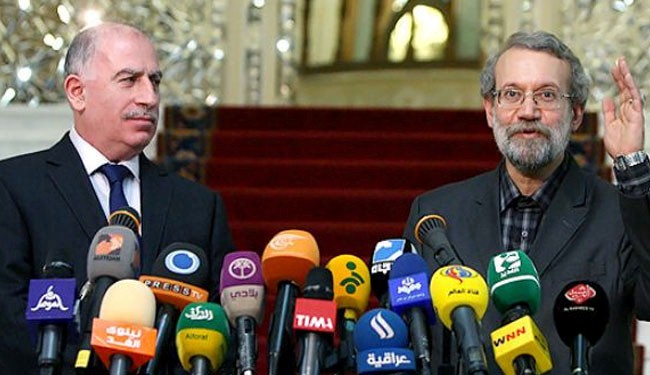 Iran's Parliament Speaker Ali Larijani and his Iraqi counterpart Osama al-Nujaifi have expressed optimism about emerging 'sign of rational decision making' in dealing with Syria's chemical weapons.
"Perhaps the situation brought about in recent days is a sign of rational decision making regarding regional issues," Larijani said at a press conference with his Iraqi counterpart al-Nujaifi in Tehran on Saturday.
After weeks of escalating war rhetoric from Washington, US Secretary of State John Kerry and Russian Foreign Minister Sergei Lavrov reached an agreement on Saturday which requires the Syrian government to destroy its stockpile of chemical weapons by mid-2014.
Larijani said the United States has realized that taking military action against Syria will provoke reactions that could further fuel the flames of war, adding that waging a war without the approval of the UN Security Council will be in breach of international law and set a wrong example for further violations.
The Iraqi parliament speaker also warned against any attack on Syria, saying a potential US strike against the Arab country would affect the whole region.
Al-Nujaifi said he believes the crisis in Syria can be resolved only through elections, and urged all foreigners involved in the Syrian conflict to leave the country.
Iraq believes that the West is only after disarmament not saving the Syrian nation so Baghdad expects the international community to prevent outbreak of war in the region, he added.
The rhetoric of war against Syria gained momentum after the militants operating inside the country and the foreign-backed Syrian opposition claimed on August 21 that over a thousand people had been killed in a government chemical attack on militant strongholds on the outskirts of Damascus.
The Syrian government categorically rejected the allegation, describing the attack as a false-flag operation carried out by militants to draw in foreign military intervention.