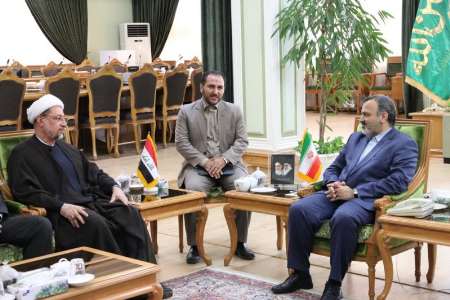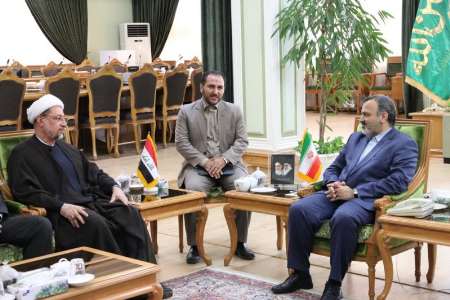 Head of Iraqi high council for Haj Pilgrimage Khalid al-Atiyeh said on Thursday that current relations between the Islamic Republic of Iran and Iraq go beyond political and geographic borders.
Iran, Iraq relations beyond political, geographic borders
In a meeting with Governor General of Khorasan Razavi Alireza Rashidian, he expressed satisfaction over his visit to Mashad and described the visit very positive.
Implementation of the agreements already signed between Iran and Iraqi Haj pilgrimage organizations help expand cooperation, he said.
He said that the efforts and services of the Islamic Republic of Iran in rendering timely services to Haj pilgrims is praiseworthy, calling for sharing such experience with Iran.
Governor General of Khorasan Razavi Alireza Rashidian expressed concern about cultural inroad and depicting a rough image from Islam. He said that such conspiracy aims to sow discord among Muslims and isolate them.
He called for promoting Muslim brotherhood to thwart the conspiracy.
Referring to developments in Yemen, Syria, Lebanon and other Islamic states, he said they stirred up the conflicts and bloodshed to plunder the wealth of world Muslims and all should exercise vigilance to unravel the ploy.
Members of Daesh Takfiri are neither Shia nor Sunni Muslims, they have no faith in genuine Islam and do their best to ruin it, he said.
On Iraq's developments, he said eradication of terrorist groups requires solidarity of Iraqi army and people, he said.
Some 28 million domestic and foreign tourists visit holy city of Mashad every year, the Iraqi pilgrims make up for two million pilgrims, he said.
The governor general of Khorasan Razavi called for more unity among Iraqi people and underlined that consolidation of political relations would lead to expansion of economic and cultural relations.