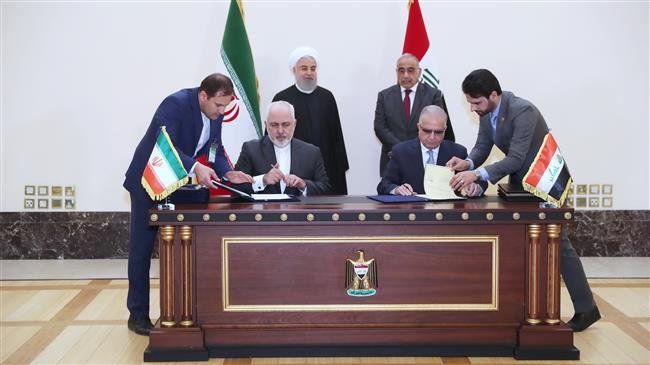 Iran and Iraq have signed five memorandums of understanding for the expansion of bilateral cooperation in various economic and healthcare sectors.
The documents were signed by senior officials of the two countries in the presence of Iranian President Hassan Rouhani and Iraqi Prime Minister Adel Abdul-Mahdi in Baghdad on Monday.
According to the documents, Tehran and Baghdad will improve cooperation in the fields of trade, healthcare and oil industry.
The two sides also agreed on the construction of a railroad link between the Iranian city of Shalamcheh and the Iraqi city of Basra as well as visa facilitation for investors and businessmen. According to the visa agreement, starting in early April 2019, the two countries will issue visas to each other's nationals free of charge.
Tehran and Baghdad signed another memorandum of understanding to boost cooperation between Iran's Ministry of Industry, Mine and Trade and Iraq's Ministry of Trade.
The two countries also agreed to cooperate in all fields related to healthcare while another agreement pertained to cooperation between Iran's Ministry of Petroleum and its Iraqi counterpart.
Iran's President Rouhani is in Baghdad on his first visit to the country since 2013. The trip is aimed at solidifying strategic ties despite US efforts to keep the two neighbors apart and curb Iran's influence in the region.
Iraqi PM urges enhanced ties with Iran
In a meeting with the Iranian president and the high-ranking politico-economic delegation accompanying him earlier in the day, the Iraqi prime minister called for the promotion of Baghdad-Tehran cooperation.
Abdul-Mahdi expressed hope that Rouhani's visit would help strengthen cooperation between the two neighboring countries in all sectors and contribute to security, stability and progress of all regional nations.
The two sides exchanged views about ways to fight terrorism, promote security and stability and strengthen cooperation in different fields.
Speaking at a press conference in the Iraqi capital on Sunday, Iraq's President Barham Salih said his country will not be part of a regime of unilateral sanctions imposed by the United States against Iran and will do its best to reduce the damage done to the Iranian nation as a result of the bans.
"Let me tell you that Iraq will not become part of the US unilateral sanctions regime against Iran. There is no doubt that we will be affected by these sanctions, but it is certain that we will not be part of them," he said.
Later on Sunday, Iranian Foreign Minister Mohammad Javad Zarif told a number of Iraqi reporters in Baghdad that unlike Riyadh, Tehran does not seek tension with any country in the region, including Saudi Arabia.
Asked about the possibility of a trip by the top Iranian diplomat to Riyadh, he said he has no plan for such a visit, but at the same time, has no problem with it, because it is Saudi Arabia, which seeks to create tension in the region not Iran.