Iraq
'Iran-Iraq ties brotherly, unbreakable'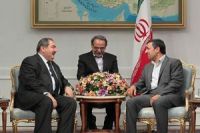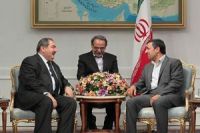 President Mahmoud Ahmadinejad called Iran-Iraq relations brotherly and unbreakable, adding that the two countries have common interests and enemies.
According to IRNA, President Ahmadinejad received Iraqi Foreign Minister Hoshyar Zebari in Tehran on Wednesday evening.
The president expressed pleasure with trend of progress, stability and integration of Iraq and said that in Iraq, after a long period of violent dictatorship, an elected government is now working for people.
He asked about health situation of Iraqi President Jalal Talebani and said that he had an excellent and determined role in maintaining national unity and formation of new Iraq.
Ahmadinejad continued that President Talebani is an experienced and wise man, who made a great deal of efforts for unity and convergence of different Iraqi groups, and we wish him full health.
He said that democracy and free election is the right of all nations and continued that events in the recent years enlighten reality of many issues for nations.
President Ahmadinejad said that enemies intend to expand war and massacre into other countries and this is the plan of hegemonic powers to weaken nations and pave ground for continuation of hegemony of arrogant powers.
The Iraqi foreign minister, by underlining Iran's support for establishment of security, stability and consolidation in Iraq said that nowadays, Iran and Iraq have a good understanding and coordination with each other in different bilateral and regional issues.
Referring to situation in Syria and its political and security consequences for countries of the region, Zebari said that international community should help Syrian nation to remove the plot by creating understanding and dialogue.