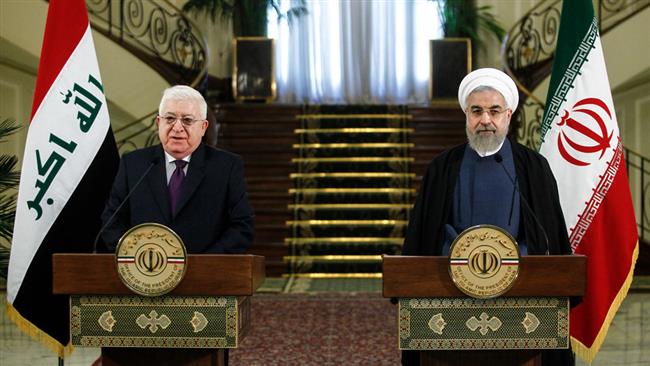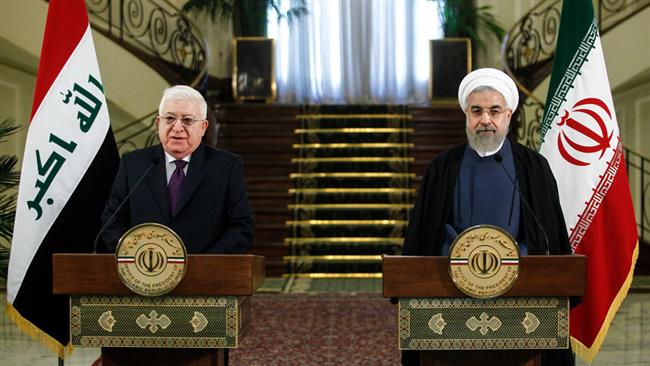 Iran and Iraq have called for the cessation of the Saudi aggression against the Yemeni people, stressing the need for a peaceful solution to the crisis in the Arab country.
In a joint statement by Iranian President Hassan Rouhani and his Iraqi counterpart Fuad Masum in Tehran on Thursday, the two sides urged collective efforts among regional countries to facilitate a political settlement of the crises in the Middle East, without any foreign meddling.
The two presidents also expressed concern over the latest developments in Yemen, which has been the scene of deadly air raids by the Al Saud regime, calling for an immediate halt to the brutal military campaign against the Arabian Peninsula state.
Rouhani and Masum also said in the statement that any obstruction of the flow of humanitarian aid to war-torn Yemen must end, emphasizing the need for the immediate resumption of national dialogue among different Yemeni groups on the formation of a new government based on the Arab nation's will.
Saudi Arabia started its military aggression against Yemen on March 26 – without a UN mandate – in a bid to undermine the Houthi Ansarullah movement, which currently controls the capital, Sana'a, and other major provinces, and to restore power to fugitive former President Abd Rabbuh Mansour Hadi, who is a staunch ally of Riyadh.
According to the latest UN figures, the Saudi military campaign has so far claimed the lives of over 1,400 people and injured close to 6,000 others, roughly half of whom have been civilians.
The Iranian and Iraqi presidents also denounced terrorism and extremism as the most serious challenges to the security of the region and the entire world.
Rouhani and Masum also touched upon the crisis in Syria, saying the Takfiri terrorist groups operating in the Arab country pose a serious danger to the stability and security of the region.
The international community should act responsibly to facilitate an intra-Syrian solution to end the deadly conflict in the country, the statement went on to say.
It also reaffirmed Iran's determination to support the Iraqi nation in its anti-terror battle.
Tehran and Baghdad vowed to boost their ties in political, military, education and commercial fields.
During his two-day visit to Iran, the Iraqi president also met with Leader of the Islamic Revolution Ayatollah Seyyed Ali Khamenei and held talks with a number of high-ranking officials.