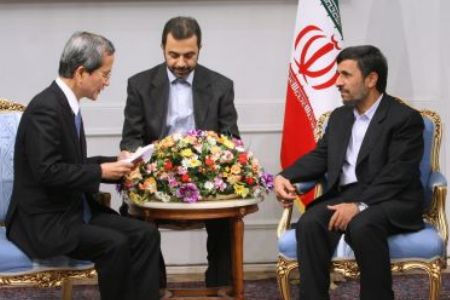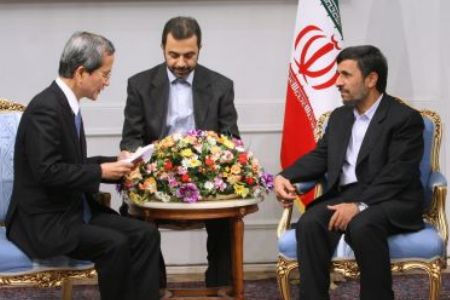 Iranian President Mahmoud Ahmadinejad says Iran and Japan can change the global situation in their favor by strengthening bilateral relations.
"Iran and Japan can alter the situation of the world in their own favor and that of the independent nations through strengthening relations," Ahmadinejad said in a meeting with Japanese Ambassador to Tehran Kinichi Komano on Sunday.
Ahmadinejad described Iran and Japan as two influential countries in the history of civilization and said, "There are no dark points in the two countries' relations, and if there was a problem during a period it was the result of foreign interference."
The Iranian president pointed to the USD 30 billion trade transactions between Iran and China and said the trade volume between Tehran and Tokyo should reach USD 50 billion, IRNA reported.
Komano praised Tehran's plan to scrap government subsidies and said, "Iran's government has taken a big step towards improving public welfare and the country's development."
The plan to scrap government subsidies, which have been in place since the 1979 Islamic Revolution, was implemented during Ahmadinejad's presidency.
The subsidy reform plan allows the government to gradually slash energy subsidies over the space of five years and instead compensate low income families with direct cash handouts.
Ahmadinejad also held a meeting with Ukraine's new Ambassador to Iran Oleksandr Samarsky, who submitted his credentials to the president.