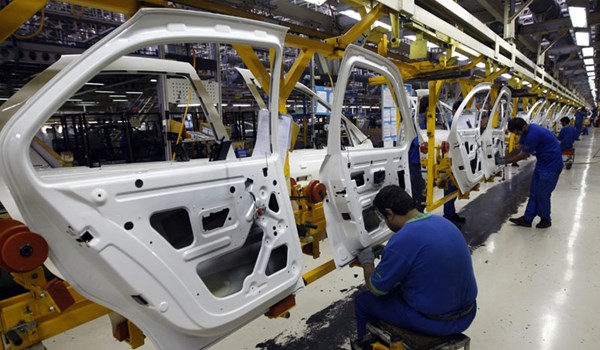 Iran's giant car-maker Iran Khodro manufactured a home-made engine named EC5 which can reduce fuel consumption in Peugeot 301 passenger cars.
Iran Khodro has produced 50 EC5 engines so far by using CVVT technology.
The volume of 301 car engine is 1.6 liters, its maximum power is 110 horsepower and its maximum torque is 150 Nm at 4,000 mph. The combined fuel consumption of the car is 7.1 liters per 100 km of travel.
The power and torque of the EC5 engine has increased by 4 to 7 percent compared with the TU5 engine.
The engine has come out of various high performance tests successful and it has been tested in different weather conditions.
The EC5 engine has a more uniform torque curve which reduces fuel consumption.
In a relevant development in July, a giant Iranian auto-parts maker announced that it had acquired the technology behind manufacturing the airbag control unit (ACU) after US-led pressures on car makers obstructed the country's ability to import high-tech parts needed in its automotive industry.
The CEO of the Crouse Company, the largest car parts manufacturer in Iran, said that his group had mastered the technology needed for production of ACUs after some four years of research and repeated tests.
Nader Sakha said that the ACU is one of the main components needed to assemble airbag sets in Iran, saying that the Crouse Company was ready for the commercial production of the unit in the near future.
Sakha said the company was seeking to fully master the technology needed for production of car airbags, adding that the parts-maker was cooperating with universities and companies in the Iranian defense sector to produce other airbag components, including the thread used to sew the inflatable bags and the crash sensors.
He said the mass production of ACUs in Iran would reduce the costs of imports for airbag items up to 35 percent.
The announcement comes as Iranian carmakers are carrying out serious reform programs to reduce their dependency on foreign companies amid sanctions that have affected their production lines.
It also came weeks after the Iran Khodro Company (IKCO), where the Crouse group is a major shareholder, launched production for a car model belonging to Peugeot some three years after the French company left Iran and abandoned its joint venture with the IKCO citing fears from US sanctions.
The production of the Peugeot 301 came as the IKCO said it would master more than 80 percent of the technology and expertise needed for the production of the car in the near future.