Iran
Middle East
North America
Saudi Arabia
Iran lambastes puppet Saudi Regime, Bahrain for supporting US oil sanctions, warns of consequences
Tehran has lashed out at Saudi Arabia and Bahrain for supporting Washington's termination of sanctions waivers for major Iranian crude buyers, saying the Islamic Republic would allow no country to replace it in the oil market.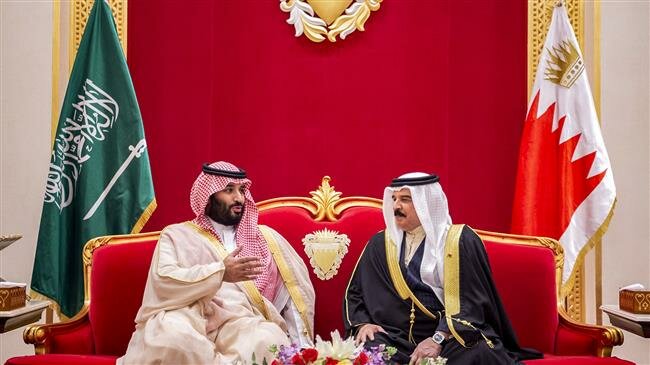 Iranian Foreign Ministry spokesman Abbas Moussavi said on Thursday that the Riyadh and Manama's stance on the oil sanctions shows the pair's "blind submission to the US and their ignorance of the consequences of such a position."
Iran would "allow no country to replace Iran in the oil market and the responsibility for any repercussions lies with the US and the aforesaid countries," he said. "The Iranian government and nation would never forget the enmity of certain countries at the current historic juncture."
On Monday, the White House threatened the buyers of Iranian oil with sanctions if they fail to stop their purchases by May 1, ending six months of waivers which allowed Tehran's eight largest customers to continue importing limited volumes.
It further said that the decision is meant to "bring Iran's oil exports to zero" and deny the government "its principal source of revenue."
Both Saudi Arabia and its vassal state Bahrain welcomed the hostile American decision.
US Secretary of State Mike Pompeo told a press conference that Saudi Arabia and the UAE had agreed to "ensure an appropriate supply (of oil) for the markets" in order to make up for the loss of Iranian oil in the global market.
'Iran to export as much oil as it wishes despite US bans'Ayatollah Khamenei says US attempts to block Iran's oil sales will come to naught and the country will continue its exports despite American sanctions.
Saudi Energy Minister Khalid al-Falih said the kingdom would work with other oil producers to "ensure adequate supplies are available to consumers while ensuring the global oil market does not go out of balance."
President Hassan Rouhani on Monday slammed Saudi Arabia and the UAE for pledging to make up for potential oil supply shortages, warning the two Arab kingdoms against their misbehavior toward Iran, which he said once saved the Saudi regime and other Persian Gulf states from annihilation.
Before invading Saudi Arabia's neighbor Kuwait, former Iraqi dictator Saddam Hussain had said that Iraq "would soon be sharing 800 kilometers of borders [with Iran] in the Persian Gulf," Rouhani said.
Had it not been for Iran's "rational" decision back then not to cooperate with Saddam, "there would have been no trace of these states today," the president stated.
Tehran has said it will put its decades of experience with US bans to good use and successfully circumvent the new ones. Minister of Petroleum Bijan Zangeneh vowed Tuesday that Washington's dream of cutting Iran's oil exports to "zero" will never come true.