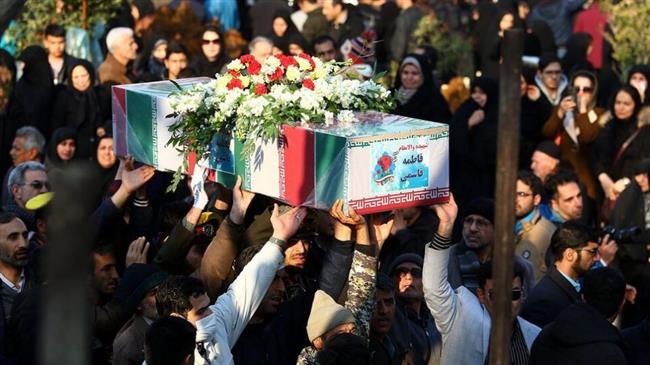 Several Iranian cities have held funeral processions and burial ceremonies for as many as 21 of the 176 people, who died last week after a Ukrainian airliner, which was taking them from Tehran to Kiev, was shot down by Iran's air defense forces due to a human error.
Footage and pictures emerging from the ceremonies held in the central city of Isfahan showed people carrying caskets bearing nine bodies overhead before putting the victims to rest at the city's Golzar-e Shohada Cemetery on Thursday.
Iranian Minister of Culture and Islamic Guidance Abbas Salehi joined the obsequies on behalf of the Iranian administration.
Memorial ceremonies are slated to be held for victims of the plane crash in the city on Friday, when the cities of Najafabad and Dorcheh, also in Isfahan Province, are planned to host burial ceremonies for two more victims.
Also on Thursday, Qom, another central city, bade farewell to seven more ill-fated Iranians. The cities of Behabad in Yazd Province, the northwestern Iranian city of Zanjan in Zanjan Province and the northeastern city of Sabzevar in Khorasan-e Razavi Province buried one victim each while two other victims were laid to rest in the western city of Sanandaj, in Kordestan Province.
Carrying 167 passengers and nine crewmembers, Ukraine International Airlines flight PS752 crashed outside Tehran last Wednesday, moments following takeoff from the capital's Imam Khomeini airport, after being mistakenly identified by Iranian air defenses with an incoming cruise missile.
The General Staff of the Armed Forces of the Islamic Republic later identified the cause of the incident as a human error.
The head of the Aerospace Division of the Islamic Revolution Guards Corps (IRGC), Brigadier General Amir Ali Hajizadeh, also explained that the air defense system involved had erroneously identified the aircraft as a hostile missile. He added that the operator in charge had then tried to seek permission for the launch, but a communication breakdown prevented him from doing so, forcing him to decide within a "10-second" time span whether to act of his own accord or not.
The Islamic Republic's Armed Forces were on the highest level of alert at the time of the incident after US President Donald Trump threatened to strike 52 targets inside Iran, if the country attempted to avenge the US's earlier assassination of Lieutenant General Qassem Soleimani, commander of the IRGC's Quds Force, in Baghdad.