Iran
Iran making headway despite sanctions: Official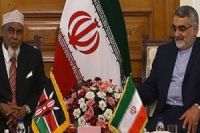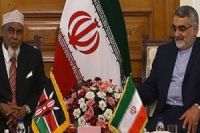 Chairman of National Security and Foreign Policy Committee of Iran's Majlis Alaeddin Boroujerdi in a meeting with his Kenyan counterpart, Mohamed Yusuf Haji, in Tehran on Saturday said that the Islamic Republic is making rapid progress despite US-led sanctions against the country.
According to Press TV, he said: "Contrary to the illusions of those who have designed and implemented cruel sanctions against Iran, our country started moving towards progress very fast."
The West's measures against Iran over the past three decades have boosted the "spirit of resistance and self-reliance" in the country, the official added.
The illegal US-engineered sanctions on Iran have been imposed based on the unfounded accusation that Tehran is pursuing non-civilian objectives in its nuclear energy program.
Iran rejects the allegation, arguing that as a committed signatory to the Non-Proliferation Treaty (NPT) and a member of the International Atomic Energy Agency (IAEA), it has the right to use nuclear technology for peaceful purposes.
Elsewhere in his comments, the Iranian lawmaker referred to friendly relations between Iran and Kenya and stressed the need for strengthening Tehran-Nairobi ties in all areas especially in the parliamentary field.
The Kenyan official, for his part, said his country's parliament and government are considering broader relations with the Islamic Republic as an important and influential country in the Middle East region.
Despite foreign pressures and sanctions, Iran has made irreversible progress in different fields, including peaceful nuclear technology, he added.
The Kenyan lawmaker also appreciated Iran's achievements in scientific, industrial and technological areas and demanded his country benefit from these achievements.