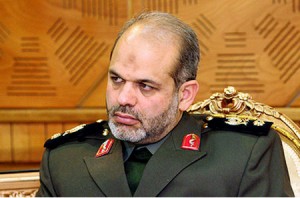 Iranian Defense Minister Brigadier General Ahmad Vahidi says the UN Security Council sanctions targeting Iran's defense sphere will not undermine the Islamic Republic's military might.
He noted that the earlier sanctions against Iran all failed to undermine the "solid will of the Iranian nation."
"In the recent resolution, arrogant powers banned weapons sales to Iran, but we do not need their weapons and we can even export such weapons," Fars news agency quoted Vahidi as saying on Thursday.
On June 9, the UN Security Council imposed a fourth round of sanctions against Iran over its nuclear program, broadening earlier financial and military restrictions.
"Iran is self-sufficient in making and mass-producing artillery, tanks, helicopters and warships," the defense minister noted.
The sanctions came three weeks after Iran, Turkey and Brazil issued a joint nuclear fuel swap declaration in Tehran on May 17.
Foreign ministers of Iran, Turkey, and Brazil signed the declaration in Tehran on May 17, according to which Iran would ship 1200 kilograms of its low-enriched uranium to Turkey to be exchanged for 120 kilograms of 20 percent enriched nuclear fuel rods to power the Tehran research reactor, which produces radioisotopes for cancer treatment.