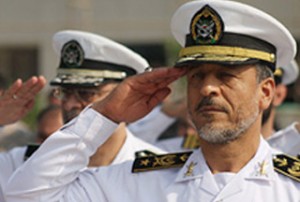 IRI Navy Commander Rear Admiral Habibollah Sayyari said Saturday the Iranian Navy forces will monitor any threats in and out of the region.
On the sidelines of the 11th anniversary of martyrdom of Brigadier General Ali Sayyad Shirazi, Habibollah Sayyari said that the Iranian navy forces has obtained a suitable deterrent capability after the production of war equipments, staff training and organizing different war games as well as recognition of various threats across the seas.
Sayyari pointed to the presence of Leader Imam Sayyed Ali Khamenei in the launching of Jamaran destroyer and said, "The presence of Iranian Navy forces in international waters including north of Indian Ocean is very important and vital for the Islamic Republic of Iran and the Navy will defend the IRI's interests."
IRI Navy Commander also said the Islamic Republic of Iran will nor allow anyone to threaten the Iranian commercial vessels in the Gulf of Aden.