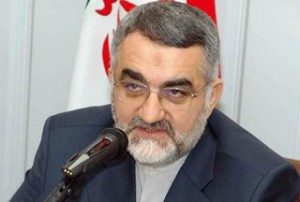 Those inspectors of the International Atomic Energy Agency (IAEA) who provided foreign countries and media with information on Iranian nuclear activities would be barred from entering the country.
Under a motion to be debated by Iranian MPs aimed at safeguarding the nation's nuclear achievements, the Atomic Energy Organization of Iran (AEOI) would be instructed to impose a travel ban on the UN inspectors who supplied foreigners with information on Iranian nuclear work, a top MP was quoted by IRNA as saying on Wednesday.
The motion has been tabled in reaction to Washington's unfair and illegal push for the UN sanctions resolution against Iran, added Ala'eddin Boroujerdi, the chairman of the Parliament's Foreign Policy and National Security Committee.
Referring to UN resolution 1929, he stated Iran will naturally not succumb to pressure, adding all of Tehran's nuclear activities have been in compliance with the IAEA regulations.
"The plan would also require the government to provide fuel for the Tehran (medical) research reactor … which means the government would have to put on its agenda uranium enrichment up to 20% ", stated the top parliamentarian.
He further said the motion would also require the government not to act beyond the Nuclear Non-Proliferation Treaty (NPT) and the general terms of the Safeguards Agreement.
Furthermore, he highlighted, the proposed legislation would allow Iran to react in kind if its ships are inspected.