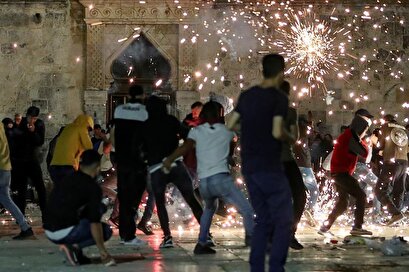 Israel's ongoing crimes against Palestinians in the Gaza Strip and the occupied Jerusalem al-Quds, have drawn strong condemnations from around the globe, as the regime in Tel Aviv has been conducting the heaviest strikes on Gazans since the 2014 war.
Thousands of people in New York, London, Karachi and other cities across the world gathered to protest against Israeli attacks on Gaza and the regime's use of force against Palestinians in the occupied West Bank.
Protesters in big cities and on social media alike carried banners and used hashtags such as "Free Palestine" and "Gaza under Attack" to condemn Israeli atrocities.
UN Middle East peace envoy Tor Wennesland warned of a "full-scale war," urging both sides to work for de-escalation.
"Stop the fire immediately. We're escalating towards a full-scale war," Wennesland tweeted on Wednesday morning.
"The cost of war in Gaza is devastating & is being paid by ordinary people. UN is working w/ all sides to restore calm. Stop the violence now," Wennesland added.
The Organization of Islamic Cooperation (OIC) condemned the Israeli regime's attacks against Palestinians and renewed its pledge to support the Palestinian people.
In a statement carried by Al-Quds Al-Arabi, the OIC said it strongly denounced Israel's continuation of its "colonialist plans" via forced expulsions of Palestinians from their homes to build new illegal Israeli settlements.
The Arab Parliament is also slated to hold an emergency meeting hosted by the UAE on Wednesday to discuss the situation in Jerusalem al-Quds and the al-Aqsa Mosque.
Representatives of Arab parliaments will give speeches during the virtual meeting.
Seyyed Hashem Safieddine, head of the Lebanese resistance movement Hezbollah's Executive Council, hailed the "spirit of resistance" witnessed in Palestine amid the ongoing struggle in al-Quds, the West Bank and other areas of the occupied territories.
Speaking with Lebanon's al-Mayadeen television channel, Safieddine also commended efforts made by Iran's martyred commander Qassem Soleimani, saying the strength shown by Palestinians against Israel's criminal activities is partly the outcome of measures taken by Iran's IRGC Quds Force under the command of General Soleimani.
He stressed that the power of resistance in Palestine, as shown by the storm of rockets raining on the Israeli regime, is far greater than the enemy assumed.
Iran slams US for shielding Israel
Top officials in Iran have also strongly condemned the Israeli regime's continuous acts of aggression, while also hinting at the regime's desperation in the face of Palestinian people's resistance.
Iranian Ambassador to the UN Majid Takht Ravanchi said the "racist nature" of the Apartheid regime amounts to continued injustice.
He railed against the United States for shielding Israel at the UN and urging the UN Security Council to not remain indifferent to the atrocities.
"Continuous attacks on Palestine by Israeli regime have resulted in death & injury of many innocent Palestinians," Takht Ravanchi said in a tweet early on Wednesday.
Iran's chief security official, Ali Shamkhani, likened Israel's so-called Iron Dome to a spider's web that collapsed as soon as the Palestinian resistance groups fired their rockets at the regime.
"The spider's web that the Zionists claimed was made of iron collapsed with Palestinian rockets," Shamkhani tweeted. "The revolutionary youth of Palestine expanded the battlefield to the heart of the occupied territories by shifting the security equations."
US sustains support for Israeli crimes
As the world awakens to the Israeli regime's acts of savagery, Washington has sustained its full support for Israel, condemning Palestinians defending their land in an asymmetrical war waged by the regime in Tel Aviv.
In a tweet on Wednesday, US Secretary of State Antony Blinken referred to the exchange of fire, saying he spoke with his Israeli counterpart, Gabi Ashkenazi, about the "ongoing situation in Israel including rocket fire emanating from the Gaza Strip."
Blinken, however, failed to condemn the Israeli bombardments targeting civilians in Gaza.
US State Department spokesman Ned Price underlined Israel's "right to defend itself" and called on Israelis and Palestinians to exercise restraint in order to reach a state of calm.
"Israel has the right to defend itself and to respond to rocket attacks," Price said at the beginning of a press briefing on Tuesday.
White House National Security Adviser Jake Sullivan conveyed US President Joe Biden's "unwavering support for Israel's security and for its legitimate right to defend itself and its people, while protecting civilians", during a conversation with his Israeli counterpart Meir Ben-Shabbat.
As expected, White House press secretary Jen Psaki also condemned the "ongoing rocket attacks by Hamas and other terrorist groups" and called for de-escalation.
Meanwhile, US congresswomen Rashida Talib and Ilhan Omar – among others – have voiced their concern over Israel's use of force against Palestinians and the regime's heavy bombardment of Gaza.
"I see some who were silent as Palestinians were ripped from their homes and tear gassed in their holiest mosques now finding their voices – to stand with the Israeli gov as airstrikes leave Palestinian children dead. Where are your voices when Palestinians are under threat?" Talib wrote on Twitter on Tuesday.