Iran
Iran Navy Chief: New Destroyer to Head for Oceans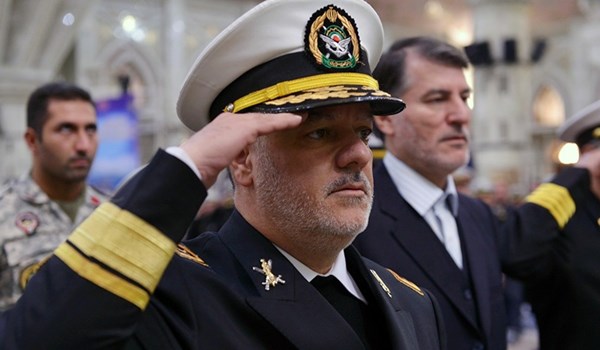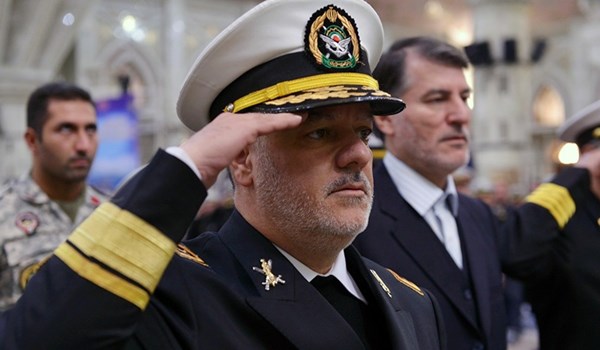 Iran will send a destroyer for a mission in the oceans, Navy Commander Rear Admiral Hossein Khanzadi declared on Tuesday.
Addressing a ceremony to mark the National Day of the Navy at Imam Khomeini Mausoleum on the Southern outskirts of Tehran today, Rear Admiral Hossein Khanzadi said Iran's most state-of-the-art destroyer, 'Sahand', will be launched on a preparatory mission on Saturday to be next sent on a mission in the oceans.
Elsewhere, Khanzadi said a Ghadir-class submarine is due to join the navy fleet on Thursday, and added, "Destroyer Dena will join the fleet in less than six months."
Boasting the capabilities of the naval industries of Iran, the commander highlighted that while it took 12 years to build Jamaran, destroyer Sahand was manufactured in 6 years, and now the new Damavand vessel will be built in less than 18 months to get operational before the end of the current Iranian calendar year of 1397 (on March 20, 2019).
Iran has made major achievements in manufacturing different weapons and military equipment.
In relevant remarks last Saturday, Iranian Army Deputy Commander for Coordination Rear Admiral Habibollah Sayyari announced that a domestically-built destroyer a submarine would join Iran's naval fleet in the near future.
The admiral said the domestically developed and built destroyer, Sahand, and home-made submarine, Fateh, would launch operation soon in future.
He praised efforts made by talented and skillful Iranian engineers and navy experts, reminding that the two vessels have been designed and built at a time when Iran has been under harsh sanctions for four decades.
Late in July, Rear Admiral Khanzadi announced that the construction jobs and naval tests on the home-made destroyer, Sahand, were also being accomplished, adding that it would be put into operation by the end of this fall along with Dena.
"Fateh submarine which is the first mid-class submarine built by the Islamic Republic of Iran will also be unveiled soon," Rear Admiral Khanzadi said.
He also referred to efforts to overhaul Damavand, a destroyer which sunk in the Caspian Sea in January after it suffered damages during the stormy weather of Anzali Port in Northern Iran, and said overhaul of the giant vessel would end by the yearend "and it will have the same, and even more, capabilities in less than two years"