Iran
Middle East
Iran Navy chief: Ties with Oman 'most stable' despite enemies' ill-wish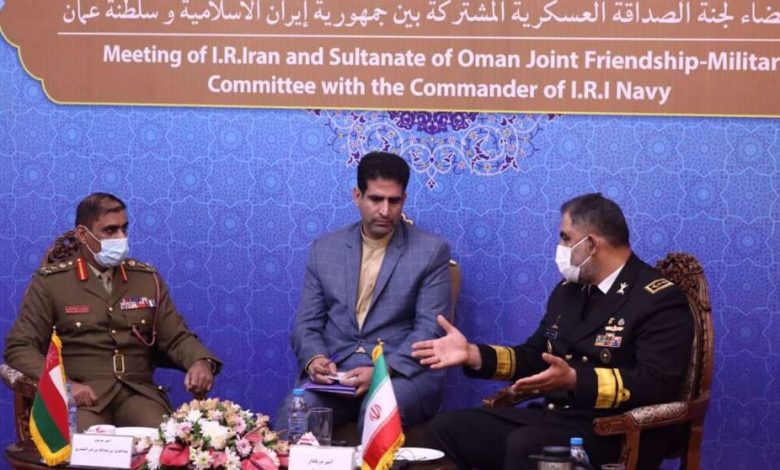 The Iranian Navy chief has praised the country's stable relations with Oman, saying all attempts by enemies to harm friendly ties between the two Persian Gulf neighbors have been to no avail.
Navy Commander Rear Admiral Shahram Irani made the remarks in a Tuesday meeting with Brigadier Abdulaziz Abdullah al- Mantheri, assistant to Oman's Chief of Staff for Operations and Planning, who is in Tehran at the head of a delegation to hold talks with the country's high-ranking military officials.
He added that the status of Iran and Oman was clear on the world stage given the two countries' dominance over the Strait of Hormuz, adding that peace-seeking and friendship are among the main commonalities between the two countries.
Tehran and Muscat enjoy growing relations in different sectors, particularly in military fields, which has brought about lasting ties between the two sides, Irani said.
"Despite all attempts on the part of enemies and ill-wishers of the region to weaken the relationship between Iran and Oman, ties between the two nations are the most stable," he said.
The Navy chief expressed Iran's readiness to host Oman's naval fleets for a visit to Iranian ports as a means to further promote relations.
The commander said security and peace were the main demands of regional nations, adding, "The demand of the region's armed forces is the same as that of the people, and efforts in this direction will definitely lead to economic and commercial growth and prosperity of countries and all regional nations."
Mantheri, for his part, said Iran and Oman had deep-rooted commonalities in various fields, including religion, culture and geography and called for the further promotion of bilateral cooperation.
Oman insists, more than ever, on continuing cooperation with Iran on providing maritime security and countering maritime terrorism in the Persian Gulf, the Sea of ​​Oman and the Strait of Hormuz in order to prevent acts of mischief by the ill-wishers and enemies of the region, he said.