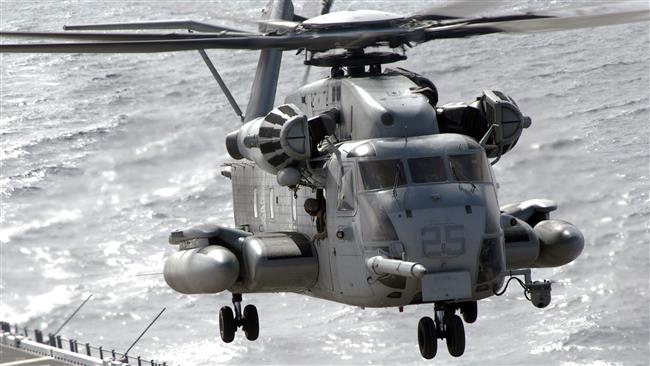 Iran has dismissed a recent accusation by US Navy that an Iranian patrol boat had shined laser at an American helicopter flying over the Strait of Hormuz. 
Back in June, US Navy Commander Bill Urban claimed that the Iranian vessel recently turned its spotlight on two American ships, the USS Cole and USS Bataan, which were moving through the strait.
The Iranian boat, he claimed, later shined laser at the US Marine CH-53E Super Stallion helicopter that responded by automatically firing flares at the Iranian vessel, adding the incident left no casualties and damage.
Urban further described the alleged face-off as an unsafe encounter and stressed that "illuminating helicopters with lasers at night is dangerous as it creates a navigational hazard that can impair vision and can be disorienting to pilots using night vision goggles."
The commander of Iran's First Naval Zone, Rear Admiral Hossein Azad, responded to Urban's claims on Sunday.
"Recently, the US Navy has claimed that Iranian Navy had shined laser at a helicopter of the US Fifth Fleet while it was passing the Strait of Hormuz, an issue the Navy of Islamic Republic of Iran Army strongly denies," Azad said.
Iranian naval forces are tasked with guaranteeing security within the country's maritime borders, where they have been involved in a series of face-offs with US vessels for intrusion into Iranian territorial waters.
In recent years, Iran's Navy has increased its presence in international waters to protect naval routes and provide security for merchant vessels and tankers. It has also conducted major drills to enhance its defense capabilities.