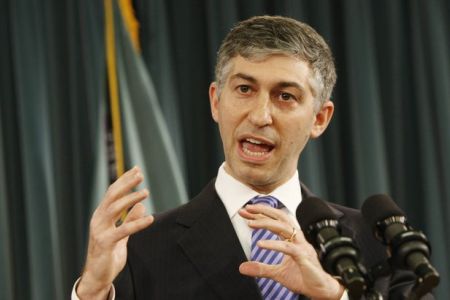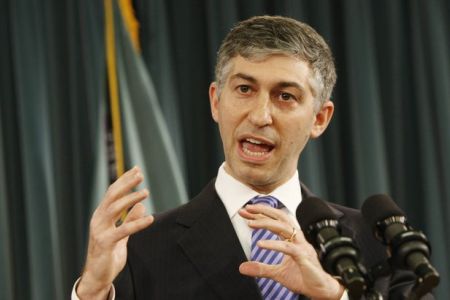 US Treasury's point man on sanctions Stuart Levey says Iran's neighbors have no interest in implementing UN Security Council sanctions against the Islamic Republic.
Last week, the US Undersecretary of Treasury for Terrorism and Financial Intelligence traveled to Turkey in a bid to pressure Iran's neighbor into "cooperation" on sanction against the country.
During his visit, Levey met with banking sector leaders, representatives of private industries, and with the Turkish foreign and finance ministers.
Earlier this month, Turkish President Abdullah Gul voiced Ankara's determination to boost trade ties with Iran, despite US pressure to halt trade with the Islamic Republic.
Turkish Prime Minister Recep Tayyip Erdogan announced later that Ankara plans to triple its trade volume with Iran within five years and said, "Our bilateral trade ties have reached USD 10 billion … when we complete our preferential trade agreement we can reach a bilateral trade volume of USD 30 billion in five years."
In an interview with state-run BBC Persian, Levey said the only thing that the US can do is to convince countries, especially Iran's neighbors that do not want to implement sanctions, that imposing sanctions is necessary and the best way to achieve what US President Barack Obama wants, Fars News Agency reported on Saturday.
The UN Security Council adopted a fourth round of sanctions against Tehran in June under intense pressure from the US, which claims Iran's nuclear program may have potential military applications.
Shortly after the imposition of UN sanctions, the US, which possesses and has used nuclear weapons in the past, in a politically-motivated move imposed additional sanctions against the Islamic Republic, which does not possess nuclear weapons nor seeks to develop such weapons.
The US then pressured Japan, Canada, and Australia to impose similar unilateral sanctions against the Islamic Republic, targeting investments in the country's energy-related industries.
Iran says that as a member of the International Atomic Energy Agency and a signatory to the Nuclear Non-Proliferation Treaty, it has the right to use the peaceful applications of nuclear energy for electricity generation and medical research.
Regarding the ineffectiveness of sanctions, Iranian officials maintain that having numerous neighbors and a diverse range of trade partners gives the country a special economic obscurity.
The total value of Iran's exports reached USD 14.448 billion which indicated a 23 percent increase compared with last year.