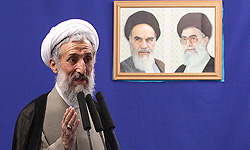 The leader of Tehran Friday Prayers in the second sermon of this week's prayers referred to Iran's nuclear issue as a national cause and said the government and the people are devoted to the cause at whatever price, IRIB reported.
Hojjatoleslam Kazem Sediqi spoke of the western propaganda against Iran as telling a big lie and said it was repetition of the same mistake they made by supporting Iraq in war against Iran.
"First they pretended that they have reached an agreement with Iran, and then they accused Iran of not living up to its promise," Sediqi said.
Sediqi added that Iran had always acted in accordance with the international law and would not yield to such pressures.
Leader of Tehran Friday Prayer addressed the West and said, "You did all the evil to the people and the Islamic Republic of Iran. You bombed our cities for eight years. Your terrorists assassinated our high ranking officials, but what have you achieved?" Sadiqi said.