Iran
Iran nuclear talks in Vienna enter 2nd day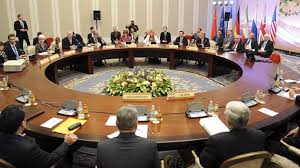 Iran and six major world powers have begun the second day of the latest round of nuclear negotiations.
On Thursday, representatives of the Islamic Republic and the five permanent members of the UN Security Council – the United States, China, Russia, France and Britain – plus Germany sat down at the negotiating table in the Austrian capital of Vienna, working to draw up the draft of a final nuclear deal.
Iran and the other side to the negotiations have stated that the parties would have a tough task during the talks.
The latest Vienna talks come after three rounds of preliminary negotiations held over the past three months, in which the two sides discussed general issues and expressed their expectations from each other.
The talks are meant to build on the interim deal that Iran and the six powers struck in the Swiss city of Geneva on November 24, 2013. The agreement came into force on January 20. Iran and the major powers have set a July 20 deadline to clinch a long-term nuclear deal.
Under the Geneva deal, the six countries agreed to provide Iran with some sanctions relief in exchange for Iran agreeing to limit certain aspects of its nuclear activities during a six-month period. It was also agreed that no nuclear-related sanctions would be imposed on the Islamic Republic within the same timeframe.
Iran says its goal is to see all the sanctions removed as the world concludes the country's nuclear energy program is for purely peaceful purposes.