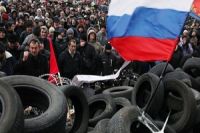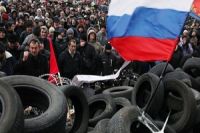 Iranian Deputy Foreign Minister Morteza Sarmadi has expressed hope that the ongoing crisis in Ukraine will soon come to an end.
According to Press TV, in a Saturday meeting with outgoing Ukrainian Ambassador to Tehran Alexander Samaraski, the Iranian official said the Islamic Republic's policy is based on respect for the territorial integrity of countries, non-interference in their domestic affairs as well as mutual respect.
He expressed hope that the Ukrainian nation will overcome the existing problems facing the country and tap into their potentialities in order to surmount the present hard conditions, adding that continued tension in Ukraine will harm the European country's national interests.
Sarmadi added that Iran-Ukraine relations have always been improving, adding that Tehran and Kiev enjoy great capacities to boost their ties especially in the economic and trade sectors.
The Ukrainian ambassador, for his part, hoped that his country will overcome the present crisis so that Iran and Ukraine can further promote their bilateral ties. He also expressed hope that the tensions in his country will not have an impact on its ties with the Islamic Republic.