Iran
Middle East
Iran Official Rejects Reuters' Unfounded Claims about Riots in November
It is easy to quote unnamed sources to claim a high death toll for gas price rise riots in November, an official at Iran's Supreme National Security Council (SNSC) said, adding that such moves are part of the psychological warfare against Tehran.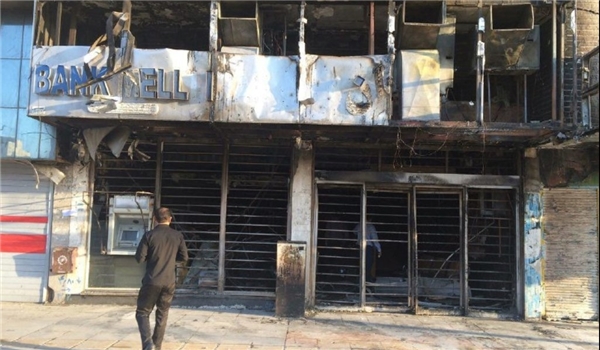 In an interview on Monday, Head of the SNSC's Information and Communications Secretariat Alireza Zarifian Yeganeh categorically dismissed a report by the Reuters news agency that claimed a death toll of around 1,500 people during recent riots over fuel price hikes, and said such claims were based on "false propaganda".
The London-based news outlet said in a report on Monday that, "About 1,500 people were killed during less than two weeks of unrest that started on November 15, including at least 17 teenagers and about 400 women as well as some members of the security forces and police."
Reuters claimed that the figures had been provided "by three Iranian interior ministry officials," without further elaboration or naming any of them.
"Such types of news writing and making accusations are by no means a complicated task. These claims are leveled based on a set of premeditated psychological warfare and lack credibility," Zarifian Yeganeh noted.
"The protestations that Reuters made in its report are totally worthless not only in terms of security issues and intelligence but in the field of news and media, and will damage the already-tarnished credibility of this agency," he added.
In mid-November, the Iranian government raised gasoline prices in order to moderate the national consumption rate.
The move prompted protests in a number of cities that went largely peaceful but turned violent when armed riotous individuals took advantage of the situation to vandalize public and state property, and attack civilians and security forces alike.
Shortly after the riots broke out, Supreme Leader of the Islamic Revolution Ayatollah Seyed Ali Khamenei tasked the Supreme National Security Council with compiling a report detailing the reasons behind the riots and immediate attending of the families of the victims.
Last Thursday, Secretary of Iran's Supreme National Security Council (SNSC) Ali Shamkhani said enemies had plotted to increase the number of fatalities during the recent riots in several cities, adding that most of the people killed in Tehran province were not even involved in any protest gatherings.
"More than 85 percent of the victims of the recent incidents in towns of Tehran Province had not taken part in any gathering and were killed with non-organizational firearms and cold weapons in a very suspicious manner," said Shamkhani in a meeting with families of some of the victims of the riots in the Western towns of the province.
He noted that there was certainly a plot hatched by the "adversaries" to cause as many fatalities as possible and pin the blame on Iran's security forces for the killings.