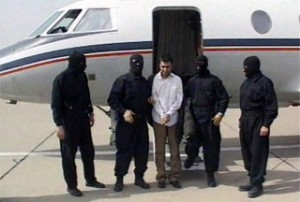 The capture and confessions of terrorist Abdolmalek Rigi showed that the advocates of 'war on terror' are in fact engaged in training terrorists rather than combating them, says a senior Iranian official.
"The terrorist Abdolmalek Rigi received funding and intelligence support from the United States, Britain, the Zionists and some Arab states of the region, due to his own characteristics," said Gholam-Hossein Mohseni Ejei, Iran's Chief Prosecutor and the previous intelligence minister, late Wednesday.
"Fomenting seeds of discord among Sunni and Shiite Muslims was Rigi's main objective. They (Jundullah terrorists) assassinated Sunni brothers and then tried to pretend that the act had been committed by Shiite Muslims," he added.
In late February, Iranian security forces captured the ringleader of the Jundallah terrorist group while he was onboard a flight from Dubai to Kyrgyzstan.
Rigi, whose group has accepted responsibility for numerous deadly attacks against Iranian civilians and security forces in southeast Iran, said after his arrest that he enjoyed the backing of Western intelligence agencies in committing acts of terror against Iran.
"The result of (foreign support for Jundullah group) was that the Iranian security forces captured Abdolmalek Rigi alive, inside Iran's soil and without paying any high price for his arrest," the chief prosecutor emphasized.
In a televised confession on Press TV, Rigi said that in a Dubai meeting with CIA agents, he was promised unlimited support that included a military base anywhere near the Iranian border equipped with weaponry and training facilities.
According to Rigi's accounts, CIA agents had also explained to him that since a US military attack on Iran would be very difficult, they intend to support all anti-Iran groups that have the capability of waging war inside Iran and to destabilize the country.