Iran
Middle East
Iran opens $238 million express train service near Tehran
President Hassan Rouhani has opened an express electric train service linking Tehran to a city 82 km west of the Iranian capital - part of a state plan to ease up congestion and traffic load in the megacity of eight million.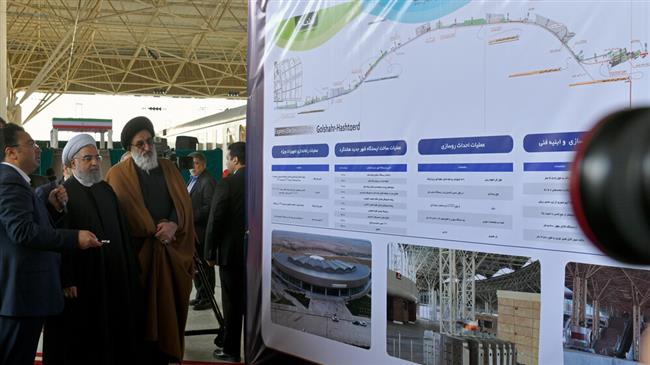 The $238 million project linking Hashtgerd to Tehran metro rail was inaugurated Tuesday during a ceremony attended by senior officials who said the line had a capacity to transport 250,000 passengers a day.
The subway system is a key part of Tehran's transit network on which more than 2.5 million journeys are undertaken every day.
According to officials, Tehran initially planned to build 430 kilometers of metro lines with 256 stations at a cost of $18 billion. But because of sanctions, only 261 kilometers and 175 stations were approved, estimated to cost around $10 billion.
Some of the lines are facing delays due to lack of financing as a result of the sanctions.
The government's decision last month to hike gasoline prices has channeled more passengers to the underground, according to officials.
Tehran is grappling with severe pollution which worsens during winter, when cold air and a lack of wind traps hazardous smog over the capital for days on end, a phenomenon known as thermal inversion.
Earlier this month, schools in Iran's Tehran province were ordered shut due to severe air pollution, extending their closure to a full week.
According to a World Bank report last year, most of the pollution in Tehran is caused by heavy duty vehicles, motorbikes, refineries and power plants.
Hashtgerd is among the cities being developed to vacuate part of the population in Tehran.
An aerotropolis is also planned near Imam Khomeini International Airport (IKIA), located 30 km southwest of Tehran, with the aim of vacuuming up part of the capital's population load.
Currently, the Tehran metro network is linked up with IKIA's first terminal, but a separate line is planned to end at new terminals which will receive international flights.