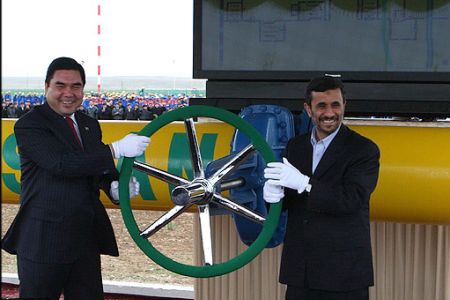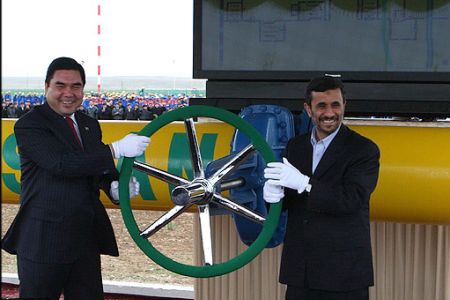 The Iranian president and his Turkmen counterpart have inaugurated the second phase of a 1.2-billion-dollar pipeline transferring Turkmenistan's gas into Iran.
Mahmoud Ahmadinejad and Kurbanguly Berdymukhamedov attended at the opening ceremony of the project at the border southeastern Iranian city of Sarakhs on Sunday.
The first phase of the 1024-km-pipeline came on stream in January 2010 to deliver gas from the Turkmenistan's Dovletabad field to Iran's Khangiran refinery.
The new pipeline will eventually more than double Turkmenistan's annual gas exports to Iran to 20 billion cubic meters.
The new 48-inch diameter pipeline has the capacity to transfer 18 million cubic meters of gas per day.
The second nationwide north and northeastern gas pipeline also officially comes on stream. Iran's gas network can be connected to neighboring countries including Iraq, Turkey and Pakistan as well as Persian Gulf littoral states.
Iran's Deputy Oil Minister Javad Owji, who is also the managing director of the National Iranian Gas Company, told Mehr news agency that Iran is ready to transit and swap gas with Turkmenistan, Azerbaijan and other neighboring countries.
"Iran will soon become the region's gas hub," he went on to say.
Iran sits on the world's second-largest natural gas reserves after Russia, and has long sought to promote itself as a transit route for oil and gas from Central Asian states.
Turkmenistan, Central Asia's biggest gas producer, is also seen as one of the key suppliers for the planned Nabucco pipeline from Turkey to Austria, designed to ease Europe's dependence on Russia for gas supplies.