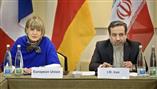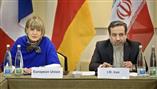 Iran and the P5+1 group of countries are set to kick off a fresh round of negotiations on drafting the text of a final deal over Tehran's nuclear program in the Austrian capital of Vienna.
Iranian Deputy Foreign Ministers Abbas Araqchi and Majid Takht-e-Ravanchi will sit down for talks with European Union deputy foreign policy chief Helga Schmid, who represents the P5+1 countries, in Vienna on Wednesday.
There is no report yet about the presence of other representatives of the six global powers in this round of talks.
Iran and the P5+1 countries – the United States, Britain, France, China and Russia plus Germany – are seeking to finalize a comprehensive deal over Tehran's nuclear program by June 30.
Tehran and its negotiating partners have been working on the text of a final deal since they reached a mutual understanding on key parameters of such a deal in the Swiss city of Lausanne on April 2.
The last round of deputy-level talks between representatives of Iran and the P5+1 ended in Vienna on Saturday as the two sides made efforts to bridge differences over the final text of the deal.
Speaking to reporters before leaving the Austrian capital for Tehran on Saturday, senior Iranian nuclear negotiator, Abbas Araqchi, described the negotiations on drafting the final text as "tough" and proceeding "very slowly."
"It is a tough and complicated task, and moving forward very slowly. It has its own sensitivities and complications, but we are still working [on it]," Araqchi, who has also served as deputy foreign minister for legal and international affairs, said.