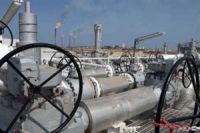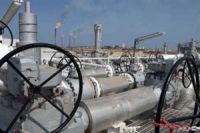 Iran and Pakistan have discussed plans to develop Iran-Pakistan (IP) gas pipeline project, which will deliver natural gas from Pars Special Energy Economic Zone in Assaluyeh in the southern Iranian province of Bushehr to Pakistan.
Iranian President Mahmoud Ahmadinejad and Pakistani Minister of Oil and Natural Resources Asim Hussain held a meeting in Tehran on Sunday to talk on the multi-billion-dollar project.
The Iranian president called for expanding bilateral ties between the two countries, and expressed hope that the pipeline would become operational as scheduled.
Hussain, for his part, said Islamabad is determined to increase cooperation with Iran in all areas, particularly in the energy sector.
During a meeting with Iranian Foreign Minister Ali Akbar Salehi on Saturday, the Pakistani minister said the construction of IP gas pipeline will benefit both countries.
The two officials also discussed ways to expand economic interactions between Tehran and Islamabad.
Hussain stressed the necessity of completing the project as soon as possible.
Iran has already constructed more than 900 kilometers of the pipeline on its soil.