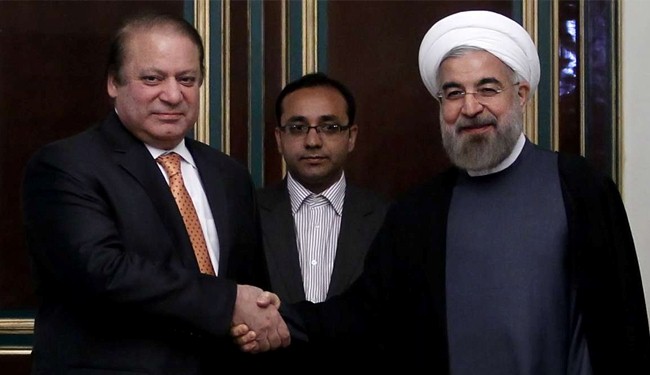 Iran and Pakistan cooperating together and with regional states to uproot terrorism and secure common border areas where terrorist Salafi groups are active.
Iranian President Hassan Rouhani said in a meeting with Pakistani Prime Minister Nawaz Sharif in Tehran on Sunday that, Iran and Pakistan are two great Muslim countries that are able to uproot terrorism and violence in the region by inviting other regional states to enhance intelligence, security and operational cooperation.
"All regional and Arab countries must believe that the presence of terrorist groups will not help peace, stability and the interests of any country," he added.
He noted that Iran and Pakistan enjoy great capacities to boost cooperation in their border regions.
"The Iranian government and nation have always called for the establishment of stability and security along the Iran-Pakistan border and have always tried to prevent any damage from our country's border areas to any neighboring state, particularly Pakistan," Rouhani said.
The president commended Pakistan's efforts to secure the release the Iranian border guards abducted by Jaish-ul-Adl terrorist group, saying further efforts by Islamabad to control and secure Pakistan's borders would speed up development in the country and across the region.
Jaish-ul-Adl terrorists kidnapped five Iranian border guards in Jakigour region in Iran's southeastern province of Sistan and Baluchestan on February 6 and took them to the Pakistani territory. The Salafi terrorist group later claimed that it had executed one of the guards.
In April, four of the five abducted border guards were freed and reunited with their families. The fate of the last border guard is still being investigated.
Sharif, for his part, said his country is a victim of terrorism that has inflicted "severe blows" to Pakistan's economy.
Pakistan believes that foreign powers may be pursuing plans to undermine Tehran-Islamabad ties, Sharif added, expressing his country's determination to counter such plots.
He emphasized that Iran and Pakistan should have common strategies and mechanisms to counter acts of terror and identify and fight terrorist groups in order to fully establish security in borders.