Asia-Pacific
Iran
Middle East
Pakistan
Iran, Pakistan stress developing security ties, border cooperation
Iran's Foreign Minister Mohammad Javad Zarif and Pakistan's Chief of Army Staff General Qamar Javed Bajwa have underlined the need for the two neighboring countries to boost bilateral security cooperation and border protection efforts.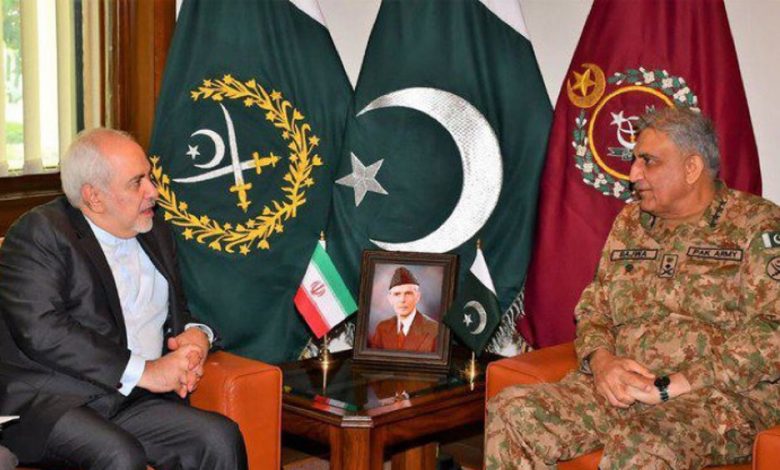 During a meeting in Islamabad on Wednesday, Zarif and General Bajwa discussed issues of bilateral significance, including the fight against terrorism, strengthening defense and border cooperation, and expanding military relations between Iran and Pakistan.
They also exchanged views on the latest security developments in the region, especially the situation in Afghanistan.
The two sides further stressed the need for developing all-out cooperation between Tehran and Islamabad, particularly in the field of security and protection of common frontiers, which have been named the borders of peace and friendship.
The top Iranian diplomat is scheduled to meet with his Pakistani counterpart, Shah Mahmood Qureshi, later in the day.
Zarif will then hold talks with Pakistani Prime Minister Imran Khan and deliver a speech at the Institute of Strategic Studies Islamabad (ISSI).
Heading a political-economic delegation, Zarif arrived in Pakistan on Tuesday to discuss bilateral and regional issues with Pakistani officials.
"Top-level talks on bilateral & regional issues with brothers FM @SMQureshiPTI, Army Chief Gen. Bajwa & PM @ImranKhanPTI tomorrow in Pakistan. Visit follows #IqbalDay, celebrating great Islamic scholar, intl poet & tireless promoter of Muslim unity who ties together our two nations," he tweeted.