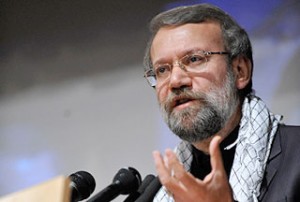 Iran Parliament Speaker Ali Larijani left Tehran for Egypt on Sunday morning to take part in the Islamic Inter-Parliamentary Union (IIPU) constitution review committee meeting.
Speaking with reporters at the International Mehrabad Airport, Larijani described the Islamic Inter-Parliamentary Union as one of the active unions in the field of Islamic countries' parliamentary cooperation.
The IIPU made hard efforts during the Gaza war which led to the OIC's extraordinary meeting; he said adding the union has played an active role during the recent years.
Referring to establishment of Asian countries' parliamentary union, he said the Islamic Republic of Iran is one of the effective members of the both unions.
Talking about the Egypt's meeting he said the two-day meeting is aimed at reforming the charter of the union.
During the previous conference of the PUOICM held in Cairo in February 2007, members adopted a resolution calling for reforming charter of the union.
Based on the resolution, a committee, comprised of Egypt (as the committee's president), Turkey, Iran, Nigeria, Azerbaijan, and Uganda, was formed to review and reform the union's charter.
Leading a parliamentary delegation from Iran, Larijani will have a three-day visit to Egypt. The committee meeting is to be chaired by Egyptian Parliament Speaker Ahmed Fathi Sorour.
Larijani is to meet Ahmed Fathi Sorour and member states of the committee during his visit to Egypt.
Iran, Azerbaijan, Egypt, Uganda, Kuwait, Niger and Turkey are member states of the IIPU constitution review committee.
IIPU was established in 1998 with Iran's offer. In 2007 the members agreed to reform constitution of the union.