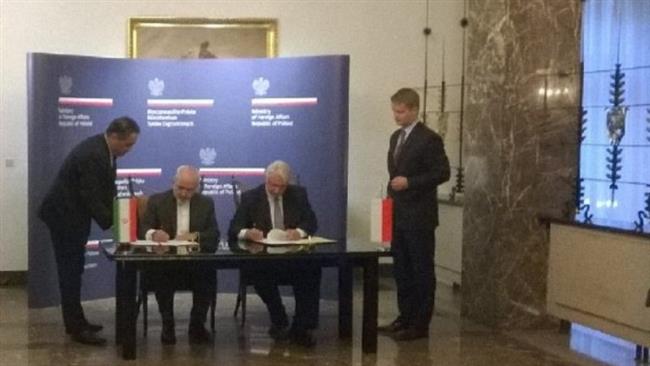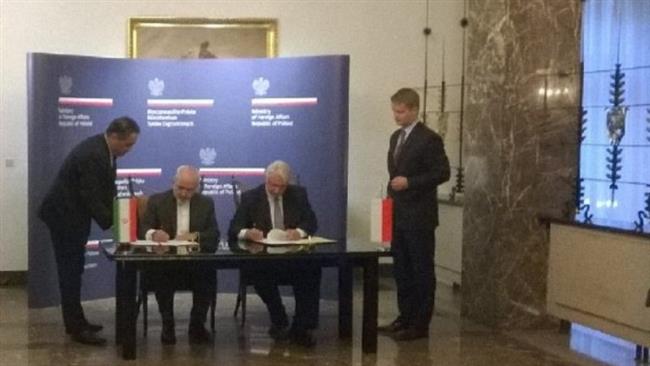 The foreign ministers of Iran and Poland have signed a memorandum of understanding (MoU) to step up political consultations between the two countries.
The MoU was inked by Iranian Foreign Minister Mohammad Javad Zarif and his Polish counterpart, Witold Waszczykowski, shortly after the former's arrival in the Polish capital of Warsaw on Sunday as the starting point of a four-nation tour of north European countries.
The document will facilitate and regulate cooperation between the two countries in politics and other fields including, economy and culture.
Speaking to reporters upon his arrival in Warsaw, the Iranian foreign minister said boosting cooperation between the two countries' private sectors is a major objective of his tour.
"Our most important agenda is supporting the private sector and the private sector is the economic engine of the country," Zarif said, adding that the presence of major enterprises in his accompanying delegation in the trip shows the attention of the Islamic Republic to the private sector.
The top Iranian diplomat noted that during his four-day tour, he would also hold political talks with the senior officials of the four countries hosting him.
Heading a 60-strong politico-economic delegation, Zarif landed in Warsaw on the first leg of his official European tour. He will also visit Finland, Sweden and Latvia.
Zarif's visit to Warsaw comes after a high-level Polish delegation, including pharmaceutical, chemical and railway executives visited Tehran in September 2015 to discuss trade opportunities created in the Islamic Republic following the implementation of the landmark nuclear agreement reached between Iran and the P5+1 group of countries in July 2014.
Iran and the five permanent members of the UN Security Council – the United States, France, Britain, China and Russia – plus Germany started implementing the agreement, known as the Joint Comprehensive Plan of Action (JCPOA), on January 16.
Under the deal, all nuclear-related sanctions imposed on Iran by the European Union, the Security Council and the US would be lifted. Iran has, in return, put some limitations on its nuclear activities.