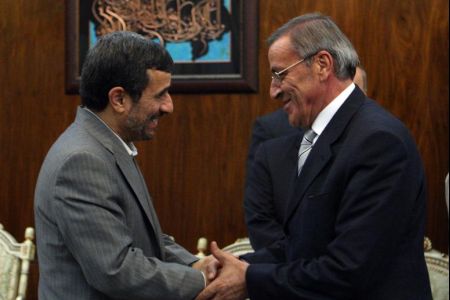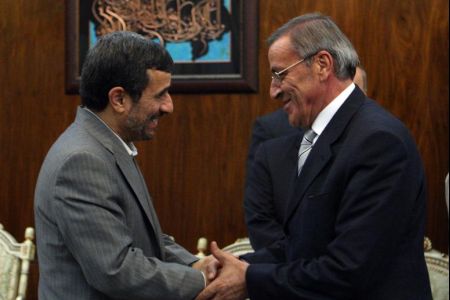 Iranian President Mahmoud Ahmadinejad has hailed Lebanon's move to arrange the recent trilateral summit with Saudi Arabia and Syria.
Commending the summit which was held in Beirut, the Iranian president said the meeting foiled Israel's attempts to sow seeds of discord among Syria, Lebanon and the resistance movement Hezbollah.
Ahmadinejad made the remarks in a meeting with visiting Lebanese Foreign Minister Ali al-Shami in Tehran on Sunday.
Tehran reassured Beirut that it will stand beside the Lebanese nation in case of any military threats from Israel.
Al-Shami, in his turn, hailed Iran's support for the Lebanese nation during the Israeli aggression in 2006.
Earlier on Sunday, the Lebanese minister met his Iranian counterpart and Secretary of Supreme National Security Council.
Iranian Foreign Minister Manouchehr Mottaki told al-Shami that the Iranian government and nation will fully support the Lebanese and Syrian nations and governments in the face of a possible Israeli aggression.
The Iranian minister further added that the three countries are constantly exchanging views about Israel's war threats and said Iran will offer any assistance to Lebanon and Syria.
The head of the Supreme National Security Council, Saeed Jalili, said that the "power of resistance and unity of the Lebanese Army does not let the Zionist regime to even cut a tree."
"Earlier, the Zionist regime could advance to the borders of Beirut fearlessly. Today the Zionist army gets a strong response from Islamic resistance for cutting a tree near the border," Jalili said.
Al-Shami and Jalili also discussed trends in regional cooperation, expansion of bilateral ties and emphasized the importance to promote unity and resistance.
On Wednesday, Israeli and Lebanese troops exchanged fire when Tel Aviv moved to uproot trees on the Lebanese side of the border line, claiming that they were blocking its border monitoring cameras.
The skirmish killed four Lebanese, including a journalist, and a senior Israeli officer.
The skirmish left four dead, including two Lebanese soldiers, one reporter, and a senior Israeli officer.
The incident marked the first border skirmish between the two sides in four years.
Iran criticized the United Nations Interim Force in Lebanon for failing to protect Lebanon's sovereignty.