Iran
Middle East
Iran president warns of plots by regional countries' enemies to stoke fear among neighbors
Iran's President Ebrahim Raeisi says enemies of regional countries are trying to stoke fear among neighbors, adding that relations between Iran and the United Arab Emirates (UAE) should not be affected by foreign parties.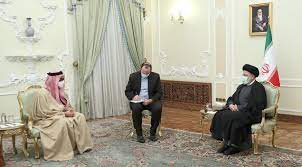 "[Promotion of] cordial relations with regional countries is among top priorities of the new [Iranian] administration's foreign policy and that's why we welcome expansion of relations with the United Arab Emirates," Iran's president said in a Monday meeting with the UAE's National Security Advisor Sheikh Tahnoun bin Zayed Al Nahyan in Tehran.
"There must be no obstacle to [the expansion] of relations between the two Muslim countries of Iran and the UAE and these relations should not be affected by foreigners," Raeisi said.
Iran's chief executive added, "The policy pursued by the enemies of regional countries is to stoke fear among the neighbors, but this conspiracy will be thwarted through tactful policies and common understanding."
He emphasized that Iran's unwavering policy is to support regional Muslim nations, saying, "The Zionists in the region are pursuing their own malicious goals and wherever they find a foothold, they turn it into a means for [promoting the policy of] expansionism and fomenting sedition. Therefore, regional countries should remain vigilant."
Raeisi said security of all regional countries is intertwined, adding that Iran supports security of the Persian Gulf's littoral states.
The Emirati security official, for his part, said the development of relations between Tehran and Abu Dhabi is on the UAE's agenda as the two countries are in the same region and are naturally affected by regional developments.
Al Nahyan voiced his country's readiness to improve cooperation with Iran and expressed hope that a new chapter would open in mutual relations with the visit of President Raeisi to the UAE.
During the meeting, the Emirati national security adviser conveyed to Raeisi an official invitation from the UAE president to visit the country.