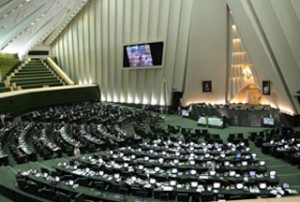 In response to a US Congressional bill that would allocate millions of dollars for anti-Iran broadcasts, the Iranian Parliament (Majlis) has passed a counter-resolution to foil what it calls "US plots".
"The Intelligence Ministry, the Foreign Ministry, and the Interior Ministry have decided to set up a three-member committee to curb the rising tide of US interference in the country's affairs," said MP Fatemeh Alia, a senior member of the Majlis National Security and Foreign Policy Committee.
She added that the parliament's national security committee initially authorized a budget of $20 million for the special committee, but later raised the sum to $50 million.
"We realized that $20 million is not enough, considering the extent to which Washington conspires against Third World countries," she explained.
Alia said the bill was primarily introduced to expose Washington's numerous violations of human rights but was later extended to cover US attempts to destabilize the Iranian government.
She was mainly referring to the Victims of Iranian Censorship Act (VOICE), which was signed into law by US President Barack Obama earlier in the month.
The bill was hammered out by Senators John McCain, Joseph Lieberman, Ted Kaufman, Lindsey Graham, and Robert Casey earlier in July as an amendment to the National Defense Authorization Act.
According to the website of Senator Lieberman, the bill authorizes $50 million for the expansion of Persian-language broadcasting into Iran by Radio Free Europe/Radio Liberty's Radio Farda and the Voice of America's Persian News Network.
It will also allocate another $25 million for internet-based activities, the website said.