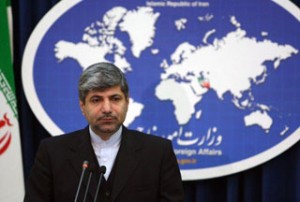 Amid the US and Saudi jet fighters massacre of civilians in northern parts of Yemen, Iran slams the use of military action as the solution to the ongoing conflict in the war-stricken Arab country.
"Iran is unhappy with the ongoing situation in Yemen. It is the murdering of Muslim brothers," Iranian Foreign Ministry Spokesman Ramin Mehman-Parast told reporters at his weekly press conference on Tuesday.
He criticized the killing of innocent people who have nothing to do with the military.
"Military actions against civilian people are inhumane," he said.
The spokesman asserted that the ongoing conflict in Yemen would be settled should the sides hold negotiations as soon as possible and foreign forces stop their interference in the country's internal affairs.
Yemen's Houthi fighters in the northern part of the country say US fighter jets have bombed their region in several occasions, claiming the lives of civilians in their air raids. The Houthis say the US Air Force had taken the northwestern province of Sa'ada under about 30 air assaults.
So far, the US officials have categorically denied any direct involvement in the air strikes on Houthi fighters, alleging they have only targeted growing al-Qaeda training camps, mostly located in southern parts of the Persian Gulf state.
The New York Times on Saturday reported that Yemeni government benefited from US military equipment and intelligence support under the pretext of fighting "al-Qaeda" although the attacks have mostly killed civilians.
An ABC report said that President Barack Obama signed the order for the military strike on Yemen.
"Upon the orders of Obama, the military warplanes on Thursday blanketed two camps in the North of the Yemeni capital, Sana'a, claiming there were "an imminent attack against a US asset was being planned," ABC News quoted anonymous administration officials as saying on Friday.
The conflict in northern Yemen began in 2004 between Sana'a and Houthi fighters. The conflict intensified in August 2009 when the Yemeni army launched Operation Scorched Earth in an attempt to crush the fighters in the northern province of Sa'ada.
The Houthis accuse the Yemeni government of violation of their civil rights, political, economic and religious marginalization as well as large-scale corruption.
The Saudi air force has also been involved the conflict by launching its own operations against Shia resistance fighters.
The United Nations, which according to its charter is set up "to take effective collective measures for the prevention and removal of threats to peace, and for the suppression of acts of aggression or other breaches of the peace," has failed to adopt any concrete measures to help end the bloody war.