Iran
Iran ready for dialog with West based on respect: Rouhani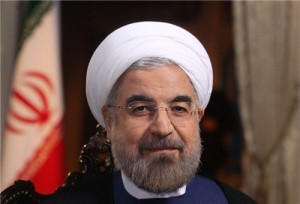 Iran's President Hassan Rouhani says Tehran is ready for dialog with the West if Tehran's rights including nuclear enrichment are recognized.
"The Iranian nation is ready for dialog with the West, provided that it (the dialog) is on an equal footing and based on mutual respect," said Rouhani in a Sunday address to the Iranian Armed Forces marking the beginning of the Sacred Defense Week at the mausoleum of the founder of the Islamic Republic, Ayatollah Ruhollah Khomeini, in Tehran.
The Iranian president stressed that the interests of both sides should be considered in the course of such negotiations and noted that the West needs to respect "all the rights of the Iranian people, including nuclear rights and [its] right to enrichment inside the country within the framework of the international law."
The remarks come two days after the White House announced the US's readiness to engage in talks with Iran about Tehran's nuclear energy program "on the basis of mutual respect."
The United States, Israel and some of their allies have repeatedly accused Iran of pursuing non-civilian objectives in its nuclear energy program, with the US and European Union using the claim as an excuse to impose illegal sanctions against Tehran.
Iran has categorically rejected the allegation, stressing that as a committed member of the International Atomic Energy Agency and a signatory to the Non-Proliferation Treaty it is entitled to develop nuclear technology for peaceful purposes.
Touching upon the crisis in Syria and the threats of war against the country, Rouhani said, "We call on all the warmongers not to seek a new war in the region, because its consequences will bring them regret."
The Iranian chief executive reaffirmed Iran's support for the demands of the Syrian nation and called for an all-out effort to stop the violence in Syria, prevent the escalation of terrorism in the region and facilitate dialog between the Syrian government and the opposition groups.
Syria has been gripped by deadly unrest since March 2011.
A very large number of the militants operating inside Syria are reportedly foreign nationals. According to reports, the Western powers and their regional allies, especially Qatar, Saudi Arabia, and Turkey, are supporting the militants operating inside Syria.