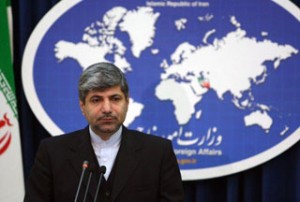 Iranian Foreign Ministry Spokesman says Tehran will be ready for a nuclear fuel swap only after the West can win back its trust.
Speaking at his weekly press conference on Tuesday, Ramin Mehman-Parast said Iran had lost trust with Western countries so they needed to provide conditions that would regain Iran's trust before any exchange of fuel.
"Because of the attitude of some Western countries, we have lost trust in them. They have never kept their promises. Naturally we cannot so easily trust them [but] if they can provide conditions in which they can win our trust then we will be ready to exchange fuel."
Mehman-Parast however said that any possible swap of fuel with the West was "not in contradiction" with the fact that Iran will start enriching 20 percent uranium, reasoning that Tehran needed the fuel in the future. He said Iran had a long-term plan for nuclear fuel production.
The mid-October nuclear proposal discussed in Vienna envisages Iran shipping out most of its low-enriched uranium (LEU) to be further enriched and returned to the country for the Tehran medical research reactor.
Iran has sought modifications to the draft proposal, arguing that a guarantee for the return of the fuel is its major concern. Iran says certain Western countries' failure to stick to their previous commitments is the source of Iran's distrust.
Tehran has asked for some alterations in the draft that would allow the exchange to take place inside Iran.
The spokesman also dismissed the end of the year as the deadline for Iran over its nuclear work and called it a "wrong approach" that would be of no avail.
He also said that further sanctions against Iran would yield no results, reiterating that Iran will not relinquish its inalienable rights despite such threats.
Mehman-Parast concluded that Iran will reduce its commitments to the UN nuclear watchdog to "minimum" required if the West denies Iran its rights.
"If our rights … are not restored then we won't have to undertake any more measures beyond our commitments with the agency. We have made maximum commitment. We'll do the minimal commitments that we are required to."
Tehran has maintained that it will continue cooperation with the IAEA, but has also warned that attempts aimed at denying Iran its nuclear rights could reduce the country's cooperation to "a legally mandated minimum," which means it would not venture beyond its legal obligations.
Iran has, however, asserted that despite mounting Western pressure it will not pull out of the nuclear Non-Proliferation Treaty (NPT).