Iran
Middle East
Iran ready to bolster interactions with regional states: FM Amir-Abdollahian
Iranian Foreign Minister Hossein Amir-Abdollahian says Tehran is ready to promote interactions with all regional countries in bilateral and multilateral formats.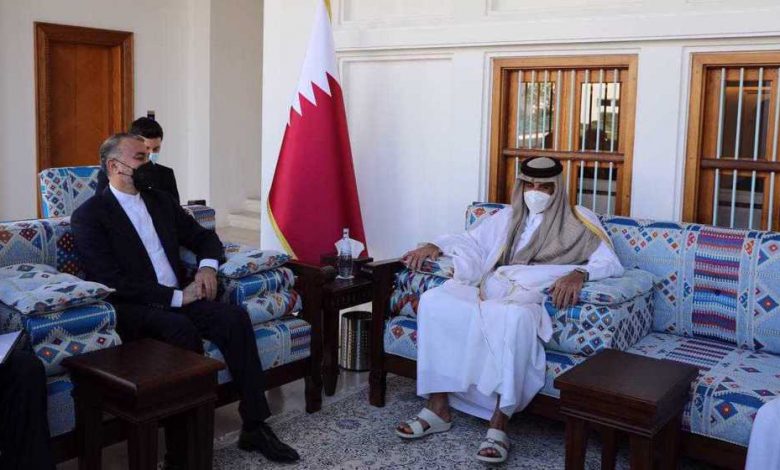 Amir-Abdollahian arrived in Doha on the second leg of his regional tour after wrapping up a visit to the Omani capital of Muscat and met with Qatari Emir Sheikh Tamim bin Hamad Al Thani on Tuesday.
During the meeting, the foreign minister conveyed warm greetings of President Ebrahim Raeisi to the Qatari emir and elaborated on the latest developments in mutual relations in various political, security, trade and economic fields.
He stressed the importance of broadening cooperation in the economic sector.
Amir-Abdollahian also reaffirmed the Iranian administration's policy of expanding ties with neighboring countries and said Tehran and Qatar should exchange high-level delegations for consultations to that effect.
The two sides also discussed the talks in Vienna on the removal of US sanctions against Iran and the crises in Afghanistan and Yemen.
The Qatari emir, for his part, pointed to the significance of Tehran-Doha relations, particularly on regional issues, and said his country was keen to strengthen cooperation.
Enhanced ties with neighbors, Iran's main priority: Amir-Abdollahian
Later in the day, Amir-Abdollahian held separate meetings with Qatari Minister of Foreign Affairs and Deputy Prime Minister Sheikh Mohammed bin Abdulrahman Al-Thani.
The Iranian minister said the expansion of ties with the neighboring countries was a top priority for the Islamic Republic and emphasized the importance of economic cooperation given the capacities existing in Iran.
He urged the enhancement of bilateral cooperation, particularly in trade, economic and investment fields and said Iran's policy was based on the expansion of ties with regional and neighboring countries with the purpose of establishing stability in the region.
The Qatari foreign minister, for his part, said his country attached importance to enhancing ties with Iran, especially in the economic area.
The Iranian and Qatari foreign ministers also exchanged views about regional and international issues, especially the Afghan and Yemeni crises.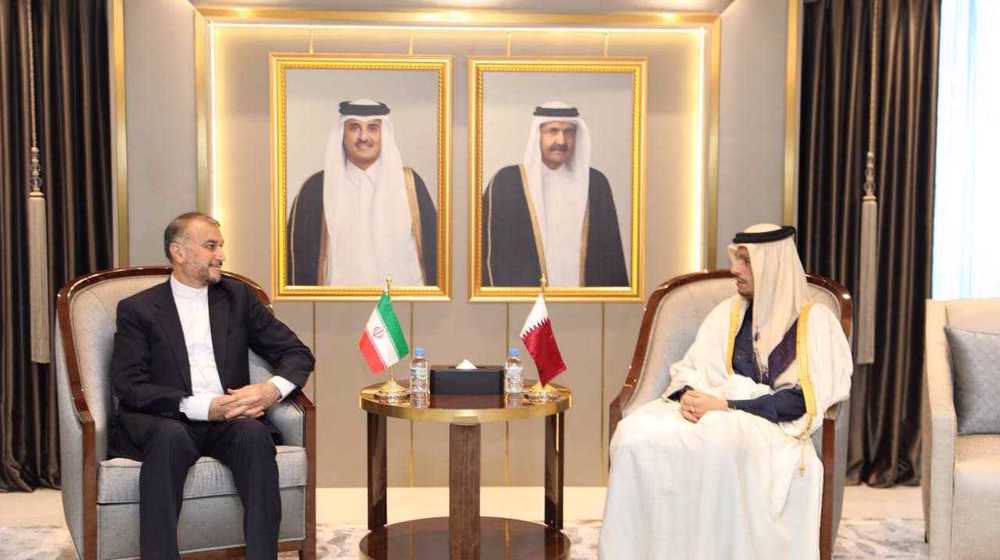 Amir-Abdollahian, Haniyeh meet in Doha
Meanwhile, the Iranian foreign minister also met with Ismail Haniyeh, the head of the politburo of the Palestinian resistance movement Hamas, in Iran's Embassy in Doha.
Amir-Abdollahian reiterated Iran's principled stance on the Palestinian issue created by the child-killing Zionist regime with Western support, condemning the Zionist occupiers' brutal crimes and acts of aggression in al-Quds, al-Aqsa Mosque, and the entire occupied Palestinian territories besides Gaza.
He said Iran would continue to support the legitimate defense of the Palestinian people and the resistance movement in the face of the Israeli regime's occupation.
Haniyeh, for his part, hailed Iran's support for the Palestinian people's fight against the Israeli regime's acts of aggression and called for Muslim and Arab nations and all world countries to unite against Tel Aviv's oppression