Iran
Iran ready to build mini-refineries abroad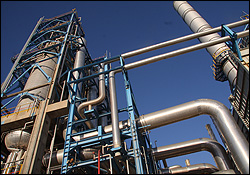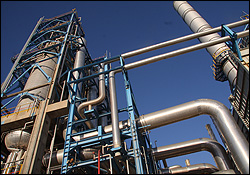 Iran is fully prepared to build small oil refineries in other countries should they show interest, Oil Ministry spokesman says.
Alireza Nikzad Rahbar said that Tehran has already signed agreements with Baghdad and Islamabad under which Iran is to build several refineries in Iraq and Pakistan.
Iraq's Oil Ministry announced in May 2007 that it had invited Iranian firms to build at least four oil refineries across the country to help it overcome chronic fuel shortages.
Iraq reportedly plans to construct an oil refinery in the town of Nahrain, just south of Baghdad, with a capacity of 140,000 barrels per day. The second refinery will be built in the town of Kuya, and is projected to yield 70,000 bpd.
Iraq also plans to build a refinery in the city of Nassiriya, situated 365 kilometers (226 miles) south of Baghdad, for export purposes with a capacity of 300,000 bpd and another in Amara, located 300 kilometers (185 miles) southeast of Baghdad.
Meanwhile, Tehran and Islamabad have inked a memorandum of understanding (MoU) for setting up an oil refinery valued at USD 4 billion at Gwadar Port.
According to the original plan, Iran will also lay an oil pipeline from its territory to Gwadar to transport crude oil for processing in Pakistan.
The head of the Iranian Oil, Gas and Petrochemical Products Exporters Union said on May 12 that Iran plans to build six small oil refineries in several African nations.
Governments of Algeria, Angola and South Africa have reportedly reached terms of agreement with Iran for building refineries in their countries.