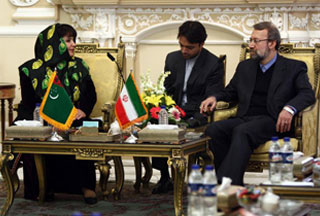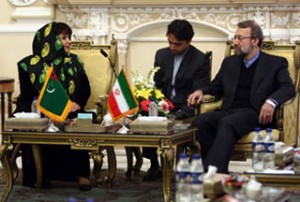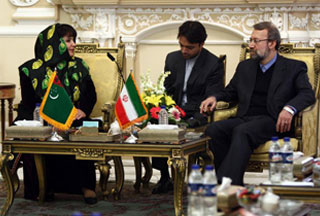 A day after a top executive on the Nabucco pipeline plant backed Iran and Turkmenistan as potential suppliers of the project, Tehran says it is ready to contribute to the plan.
"Iran is prepared to assist Turkmenistan in the gas sector" particularly with regard to the market in Europe, said Iran's parliament speaker Ali Larijani during a meeting with his Turkmen counterpart Akja Nuberdiyeva.
"We are also willing to grant the country access to the Persian Gulf through our railway system," Larijani added.
Turkmenistan, holder of the world's fourth largest gas reserves, has been continuously courted as the one of the main suppliers to the $11.7 billion Nabucco pipeline.
Central Asia's biggest gas producer, which pumps over 75 billion cubic meters of gas per year, sold a bulk of its gas to Russia, until April when supplies were halted due to a pricing dispute.
Europe on the other hand seeks to shed its dependency on Russian gas, after Moscow in January shut all gas supplies to the European Union over a pricing dispute with Ukraine.
Larijani made the remarks as Nabucco consortium's Vice President Johann Gallistl on Saturday told an investors' conference in Ashgabat that Turkmenistan, Azerbaijan, Iran and Iraq could be potential suppliers for Nabucco.
Gallistl said moving Turkmen gas for the pipeline through Iran is another option.
"We hope and expect Turkmenistan to be one of the main suppliers of gas to various markets through Nabucco," AP quoted the official as saying.