Iran
Iran ready to coop. with UN in fighting terrorism: Official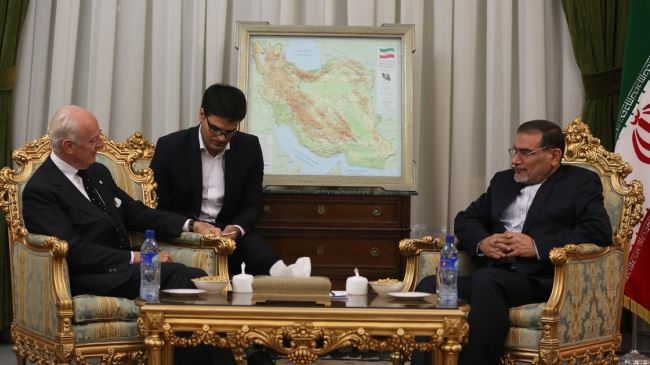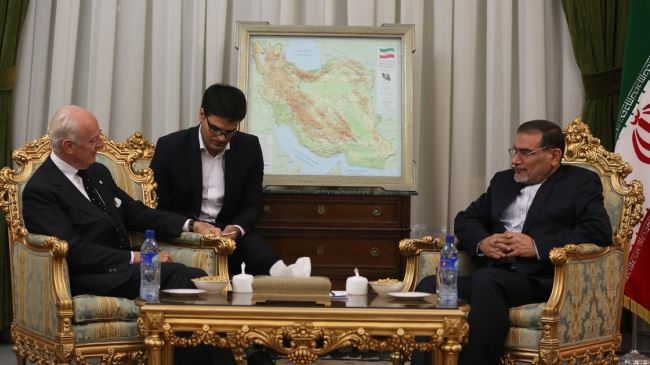 A high-ranking Iranian official has voiced the Islamic Republic's readiness to cooperate with the United Nations in the fight against terrorist groups operating in the region, including Syria.
"The Islamic Republic of Iran, under its humanitarian and principled policies for the provision of security in the region, will continue confrontation with the terrorist groups and is ready to cooperate with the United Nations as the only legitimate source in this regard," Secretary of Iran's Supreme National Security Council (SNSC) Ali Shamkhani said on Monday.
Shamkhani made the remarks in a meeting with UN special envoy to Syria Staffan de Mistura in Tehran, where both officials discussed the latest political and security developments in Syria.
Pointing to the failed international conferences aimed at ending the Syrian crisis and the boomerang effect of the creation of terrorist groups to fight the elected Syrian government, Shamkhani underlined the necessity to reconsider wrong policies adopted by certain states, support the real demand of the Syrian people and help the establishment of security and stability in the country.
"In spite of the Syrian government's readiness to hold political dialogue with different Syrian groups, irresponsible behavior of certain Western and regional countries as well as arming the opponents and provoking them to kill the people has been the main obstacle to the establishment of calm in Syria," said the Iranian official.
De Mistura, for his part, underscored the need for Iran's participation in any effort aimed at settling the ongoing crisis in Syria.
He described a political solution to the Syrian crisis as the best means to confront the ISIL Takfiri terrorists, who are currently wreaking havoc on Iraq and Syria.
Syria has been gripped by deadly violence since 2011. Western powers and their regional allies — especially Qatar, Saudi Arabia and Turkey — are reportedly supporting the militants operating in Syria. More than 191,000 people have been killed in over three years of fighting in the war-ravaged country.