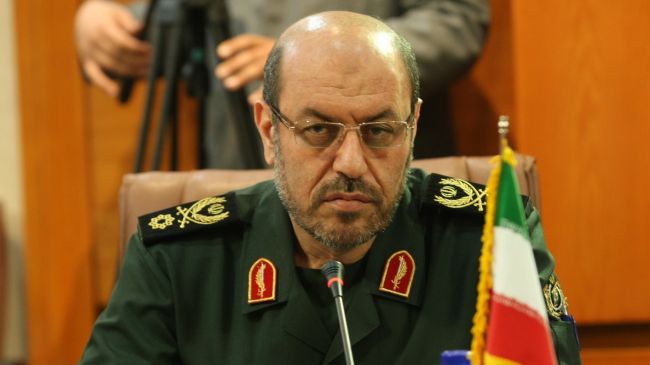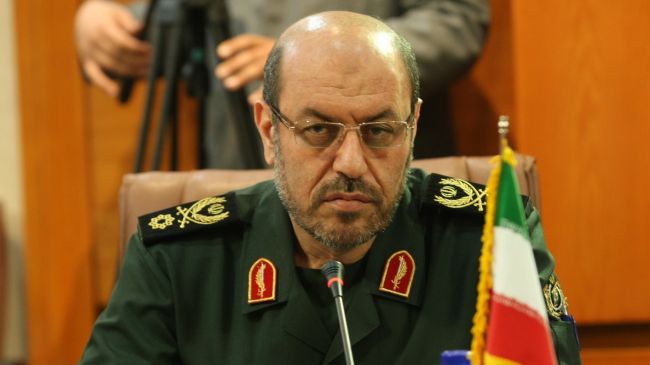 Iran's Defense Minister Brigadier General Hossein Dehqan says the Islamic Republic is ready to counter any act of aggression against the country.
"By relying on its capable Armed Forces…and using advanced military equipment, the Islamic Republic of Iran is ready to confront any hostile act by aggressors," Dehqan said on Wednesday.
"The eight-year [Sacred] Defense [against the Iraqi imposed war] and the 34-year resistance of the Iranian nation against domineering [powers] has …created [a] readiness [in Iran] which makes aggressors [think twice about attacking Iran]," the Iranian minister stated.
Dehqan made the remarks in reaction to US Secretary of State John Kerry who said on January 23 that if Iran resumes uranium enrichment beyond the five-percent level, "then the military option that is available to the United States is ready and prepared to do what it would have to do."
The Iranian minister emphasized that Iran does not welcome war and tension but will give a decisive response to warmongering powers.
"The continuation of such off-the-cuff remarks [by US officials] will create more hatred towards the US in the Iranian people as well as in regional and world nations," the Iranian minister stated.
"It is surprising that so-called defendants of human rights, democracy and diplomacy still…think that they can serve their interests through bullying and aggression," he pointed out.
On Tuesday, Iran's Armed Forces Chief of Staff Major General Hassan Firouzabadi advised US officials not to hamper talks over Iran's nuclear energy program by raising threats of military action against the country.
"The Americans better pursue the option of diplomacy within the framework of the Geneva [nuclear] accord and do not block talks by pointless and un-substantive rhetoric," Firouzabadi said.
On January 20, Iran and the five permanent members of the UN Security Council – Russia, China, France, Britain, and the US – plus Germany started to implement the nuclear deal they reached in Geneva last November.
Under the deal, Iran would take the confidence-building measure of limiting its nuclear enrichment to five percent for six-months and in return it would be provided with partial sanctions relief.