Pakistan
Iran Ready to Fight against Extremism, Zarif Told Sartaj Aziz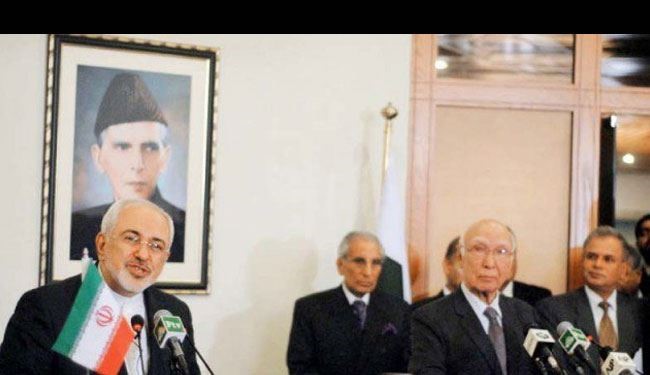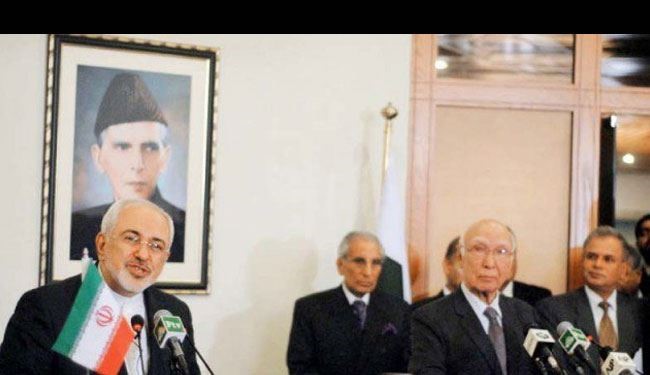 Iranian Foreign Minister Mohammad Javad Zarif in joint press conference with his Pakistani counterpart Sartaj Aziz on Islamabad underlined Iran Readiness to Fight against Extremism and cooperation with countries in the region to fight terrorism.
"Now that the unnecessary crisis in Iran's relations with the west has been removed, we are ready to fully concentrate on the regional cooperation," Zarif said in a joint press conference with his Pakistani counterpart Sartaj Aziz.
"We need further efforts and cooperation among all regional countries to reach integrated consensus on fighting terrorism, extremism and violence in the region," he added.
Zarif reiterated that the Islamic Republic of Iran believes in cooperation with Pakistan, and said, "We hope that we could play a more effective role in resolving the regional problems, including Yemen, Syria, Iraq and Afghanistan through collective cooperation and we believe that Pakistan has played a responsible role in this regard in the region."
The Iranian foreign minister expressed hope that the implementation of Joint Comprehensive Plan of Action (JCPOA) in the next months would enable Iran and Pakistan to remove the obstacles in the way of expansion of bilateral ties to broaden mutual cooperation between the two neighbors in energy, gas, oil, transportation and many other areas.
Earlier today, Zarif and Aziz in a meeting here today underlined the need to further broaden mutual cooperation in different areas.
During the meeting, Zarif and Sartaj Aziz discussed the ways for expanding mutual cooperation in areas of mutual interest, and the two sides also underlined the need to solve the regional crises through political means.
The Iranian and Pakistani foreign minister also conferred on the trade, economic and energy cooperation with Sartaj Aziz.
The two sides also called for taking big and serious strides to broaden mutual cooperation, especially for enhancement of economic relations after the nuclear agreement reached between Iran and the world powers in Vienna.