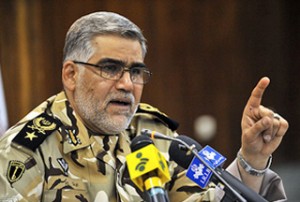 Commander of IRI Ground Forces Brigadier General Ahmad Reza Pourdastan said all activities of the Islamic Republic of Iran's armed forces are based on the country's defensive doctrine and deterrent policy.
Addressing worshipers gathered in Tehran University Campus for saying Friday Prayers, he added "We are ready for defending the independency and territorial integrity of our country, but we would not initiate and only defend as what we did during the eight-year Iraqi imposed war."
He stressed that any movement and all threats of the enemy were under close surveillance of the Iranian experts.
Commander Pourdastan stressed that the IRI's armed forces would foil any military threat.